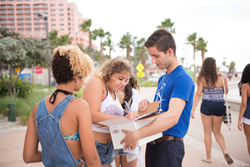 The Church of Scientology has made a great contribution to the community and the city," he said. "I am so happy to see how your dream has materialized into this
Clearwater, FL (PRWEB) August 11, 2015
The Universal Declaration of Human Rights is being embraced this week with a new appreciation by the regional representative of a prominent business. The reason? The impressive new United for Human Rights center on Fort Harrison Avenue in his hometown of Clearwater, Florida.
After watching several public service announcements, each illustrating one of the 30 rights enshrined in the Universal Declaration of Human Rights, and The Story of Human Rights documentary, the man spoke of how the presentation conveys a sense of one's own responsibility to make sure that the Universal Declaration of Human Rights isn't just "words on paper."
"The Church of Scientology has made a great contribution to the community and the city," he said. "I am so happy to see how your dream has materialized into this."
He is one of a steady stream of visitors touring the new center each day, seven days a week. Some come out of curiosity, some with concerns about rights abuses in certain areas of the world, while others sign up as volunteers or to partner with the organization.
And the impact rolls out in unexpected ways. Case in point: a volunteer came to pick up a stack of human rights booklets—she wanted to hand them out around town. Not long after that, a man called in. After taking one of the booklets and reading it cover-to-cover, he realized there was something he could do to address a personal issue that was troubling him. He set an appointment to come to the center the following day.
After visiting the center, a priest, active in veterans' affairs in the Tampa Bay area shared the United for Human Rights educational materials with colleagues. He wants to work with UHR to educate veterans on their rights and introduce them to this and other humanitarian programs represented in the six new centers.
A local event producer who decided to distribute What are Human Rights booklets at a major festival she is organizing for the Christmas season also is bringing copies to a rally organized to encourage Hispanic residents to vote.
This new Human Rights center is one of six new facilities, each dedicated to helping with the pressing issues that impact Clearwater and the Greater Tampa Bay area: