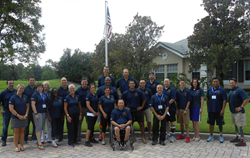 "What we have learned from elite performers is that resilience can be acquired through training," said Jim Loehr, co-founder of the Johnson & Johnson Human Performance Institute.
Philadelphia, PA (PRWEB) August 12, 2015
The Triumph Games (http://www.2015triumphgames.com) today announced that Johnson & Johnson (http://www.jnj.com) will be the Official Health and Wellness Sponsor of the 2015 Triumph Games.
The Triumph Games showcases the athletic excellence of 12 military veterans, who will compete in three rounds of competition, including a triathlon, e-sports and motorsports. The live games will be held Aug. 24-29 in New York. The Triumph Games mission is to increase positive public awareness of veterans who are successful after leaving military service.
As the world's largest healthcare company, Johnson & Johnson has a history deeply rooted in supporting those who serve and their families. Today, the company invests time and funds into innovative research that addresses the specialized care that returning veterans not only require today but also may need tomorrow.
"We are thrilled to welcome Johnson & Johnson as the Official Health and Wellness Sponsor for the inaugural Triumph Games," said Mary L. Hagy, Co-Founder and CEO of the Games, and a U.S. Army veteran. "Our veteran athletes, some of whom earned Gold Medals in Sochi and all of whom have medaled nationally or internationally in their sports, are role models of American success. Johnson & Johnson's support of the Triumph Games is testament to their commitment to ensuring our heroes thrive with healthy transitions into civilian life."
The multi-level sponsorship of the Triumph Games has already kicked off with the Terrific 12 training at the Johnson & Johnson Human Performance Institute (JJHPI https://www.hpinstitute.com/) in Orlando, Fla., in anticipation of the Games. The Institute's Co-Founder Dr. James Loehr and his team have trained more than 250,000 corporate executives and elite athletes, including 17 world champions. Loehr, author of several books, including "The Only Way to Win," personally conducted the T-12's intensive program, focused on winning with character, and managing their physical, mental, and emotional energy. The athletes also completed body composition analysis and nutritional training, as well as and physical training and challenges lead by JJHPI Fitness Director and former Navy SEAL, Phil Black.
"What we have learned from elite performers is that resilience can be acquired through training," said Jim Loehr, co-founder of the Johnson & Johnson Human Performance Institute. "We have applied these science-based behavior change principles more broadly including corporate and healthcare environments to help individuals and organizations achieve their highest performance and potential. We are proud to be a sponsor of the Triumph Games and support Our Vet Success."
With the belief that each of us have the power within us to overcome the challenges we face – big and small, Johnson & Johnson will also be launching a social media campaign entitled #MyTriumph, celebrating the everyday triumphs of Triumph Games fans, and their employees.
The T-12 athletes are now completing home-based training to prepare for the physical, mental and courage tests that will come during the live games.
Stay tuned to the Triumph Games® Facebook page, on Twitter @TriumphGames15, Instagram @TriumphGames, #TriumphGames and http://www.2015TriumphGames.com for updates and competition announcements.
About OurVetSuccess®
OurVetSuccess, producer of the Triumph Games, is dedicated to increasing positive public awareness of successful military veterans. By working together with businesses and leveraging the media to share success stories, OurVetSuccess is changing the public perception of the US veteran population to one of not only honor, but also leadership and success.
###