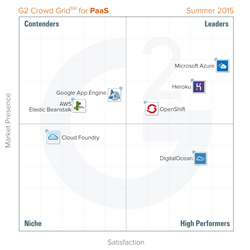 CHICAGO, IL - (PRWEB) August 12, 2015
The first Grid℠ report for platform as a service solutions, or PaaS solutions, published today by business software review site G2 Crowd, ranks seven products to help purchasers in their selections.
Microsoft Azure, Heroku and OpenShift were named Leaders in the report, receiving strong customer satisfaction scores with a large market presence. DigitalOcean was named a High Performer, earning strong customer satisfaction marks with a smaller market presence score. Microsoft Azure earned the highest overall Satisfaction and Market Presence scores.
The Grid℠, created from G2 Crowd's software review platform, factors in customer satisfaction reported by users, along with vendor market presence determined from social and public data to rank products. The Fall 2015 report is based on nearly 200 reviews written by developers and engineers.
PaaS platforms provide users with the tools to develop, run, and manage web applications. Since PaaS platforms are delivered as a service over the Internet, developers can work within them without having to manage the underlying infrastructure, allowing them to focus solely on developing their application. PaaS platforms also enhance team collaboration by allowing multiple users to work on a single project within a multi-tenant architecture.
Of the roughly 50 software vendors listed in G2 Crowd's PaaS software category, the ranked products each received 10 or more reviews to qualify for inclusion on the Grid℠.
Across all PaaS providers, reviewers reported the product they use meets their requirements at an average rate of 85 percent, and on average reviewers said they were 83 percent likely to recommend the product they use, despite the relatively low average score for Quality of Support (79 percent).
Some highlights from the PaaS reviews on G2 Crowd:
"[With Microsoft Azure], you can deploy apps, services, websites extremely quick and you can very easily configure them to better suite your needs, or your customers needs."

Marco Pais, Web Developer at Simplifydigital
"Quite possibly the greatest aspect of using Heroku is the [sheer] simplicity of working with the system. Whether you're building a Ruby, Node or PHP app, [it's] as simple as running a command from your source directory. Heroku just gets out of your way and lets you work your own magic."

Curtis Rissi, IT Solutions Architect at Esri
"[OpenShift] is a quick and easy way to turn on an application for either a quick demo, testing or just a proof of concept with having to go [through] all the red tape of getting permission from someone in it. The interface looks really nice and is simple to navigate."

Dev Badlu, VP of Product Innovation at CATERTRAX
"I never feel like [DigitalOcean] is trying to upsell me. From the first day I signed up (I've hosted on DO for a year and a half) it's been about what I needed as a developer and not what they wanted to sell me. I've had fantastic uptime, and they're very communicative about any [upcoming] changes or maintenance that may affect me."

Aimee Jarboe, Community Operations Manager at Virid
Satisfaction rankings are generated from the user reviews, and market presence is calculated from vendor size, market share, and social impact. Based on a combination of these scores, each software solution is categorized as a Leader, High Performer, Contender, or Niche.
Access to premium PaaS software research can be purchased on the site for $599. This offers the original data for filtering and weighting, as well as individual profiles of each platform with the most helpful positive and negative PaaS software reviews, detailed company information, user satisfaction ratings, feature scores and customer metrics. Future refreshes of the Grid℠ will provide updated rankings based on the latest reviews and social data.
Be sure to check out the new Grid℠ for the best PaaS solutions and subscribe to the premium research.
_______________
About G2 Crowd, Inc.
G2 Crowd, the world's leading business software review platform, leverages its 37,000-plus user reviews to drive better purchasing decisions. Technology buyers, investors, and analysts use the site to compare and select the best software based on peer reviews and synthesized social data. Co-founded by the founder and former executives from SaaS leader BigMachines and backed by roughly $12 million in capital, G2 Crowd aims to bring authenticity and transparency to business technology research. For more information, go to G2Crowd.com.