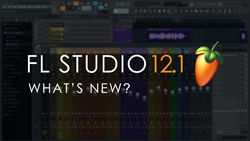 FL Studio 12.1 - The fastest way from your brain to your speakers
(PRWEB) August 14, 2015
Image-Line Software have announced that FL Studio 12.1 is now available. Image-Line have been listening closely to customer feedback on the initial FL Studio 12 release to improve workflow and to made the transition from FL Studio 11 to FL Studio 12 easier.
FL Studio includes Lifetime Free Updates so customers can download the latest version and install along-side any previous installation.
WHAT'S NEW?

4 high quality FPC drum kits
2 high quality Piano instruments (Close Grand and Stage Grand)
Added FL executables that are scaled by Windows (see the install folder)
Changed various defaults (we know best!)
Ctrl+S saves project even when mixer has focus
FLAC file import support
Fruity X-Y-Z Controller plugin
Launchpad Pro support
Mixer track assignments selectors in Channel Rack
Mixer: full colorization of tracks (and other visual enhancements)
Notes over 120 (10th octave) perform special actions.
Now uses modern version of open and save windows
Option to delete steps instead of muting them
Periodically show different news item
Plugins: Restored "More plugins" menu option and window
Plugin Scanner is now called "Plugin Manager" & includes new plugin info tab
Re-implemented sample history in channel settings window
Renamed "flat database" to "alphabetical"
Randomize news item in News Panel.
Update main window caption when project title is edited
Update reminder window
VFX Key Splitter plugin
BUG FIXES
For full details see the the 'WhatsNew.rtf' file in the FL Studio 12 installation folder
Image-Line remind customers to please report bugs in the Technical Support forum. "We can't fix what we don't know about and we do love to fix bugs!".