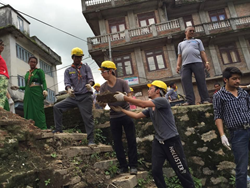 Los Angeles, CA (PRWEB) August 11, 2015
Nepal's holy pond in Sankhu, created by the goddess Vajrayoginī according to legend, is being restored from damage suffered in the April 2015 earthquake thanks to Scientology Volunteer Ministers (VMs) and VM-trained Nepali Scouts.
Volunteers formed a human chain to remove rocks and other debris from the water, the first step in returning the holy shrine to its former state.
Another team of VMs traveled via truck to mountain villages where they continued demolishing collapsed buildings, setting up temporary schools and shelters and clearing roads of rubble and debris.
In the three months since the earthquake, Scientology Volunteer Ministers have distributed nearly 60,000 meals, distributed more than 900 tents and built over 250 houses and schools in some 100 villages.
New Volunteer Ministers group leaders continue arriving at the permanent Volunteer Ministers center in Kathmandu to train in the basic skills to bring the program to their districts.
This week saw those relief efforts bolstered with the opening of the Scientology Volunteer Ministers tent at the famous Hindu Pasupatinath Temple on the banks of the Bagmati River in Kathmandu. Some 700 visitors came to the tent to learn more and speak with a Volunteer Minister. The tent is open every day, providing training, seminars, workshops and one-on-one help.
About The Volunteer Ministers
The Volunteer Ministers program was expressly intended for use by Scientologists and non-Scientologists alike. Anyone of any culture or creed may train as a Volunteer Minister and use these tools to help their families and communities. And all are welcome to do so.
Equipped with effective technology to resolve virtually any difficulty, Volunteer Ministers live by the motto: "No matter the problem, something can be done about it."
Transcending all ethnic, cultural and religious boundaries, the Volunteer Ministers program is there for anyone in need of help. Volunteer Ministers training is available free of charge through the Scientology Volunteer Ministers website to anyone who wishes to help others. Learn more about the Volunteer Ministers at http://www.VolunteerMinisters.org .