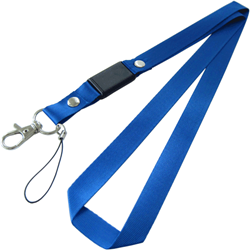 The Slim Lanyard delivers not only on the practicality of being a wareable USB flash drive; but also on the style, elegance, and ease of use
Riverwoods, Illinois (PRWEB) August 13, 2015
Bowtie Promotions' launch of the Slim Lanyard Personalized USB flash drive enables promoters to offer the functionality of a neck lanyard with multiple attachments options and a USB flash drive in one package.
The Slim USB Lanyard has multiple options for attachments which include the all-metal clasp for a badge or keys and a nylon loop for any other attachment. The color of the lanyard may be customized based on preference. The lanyard material as well as the buckle may be color silk-screen printed. Once personalization is complete, Bowtie Promotions' 10-day fast-track branding service ships the finished product in 10 business days or less.
Combining the functionality of a neck lanyard and USB flash drive is a fantastic and easy to use combination for an exhibition or any other event. The slim profile of the Slim Lanyard is elegant and compact. The USB flash drive simply detaches from the lanyard with a small latch and attaches back with a snap. The slim profile of the micro USB connector makes the Slim Lanyard easy to use with thinner devices such as tablets and netbooks.
"The addition of the Slim Lanyard USB flash drive to our lineup is another example of Bowtie Promotions delivering stylish and practical USB flash drive products to customers with branding and promotional needs. The Slim Lanyard delivers not only on the practicality of being a wareable USB flash drive; but also on the style, elegance, and ease of use." stated Dennis Lanski, President with Bowtie Promotions.
Visit http://www.BowtiePromotions.com to obtain more information. Telephone inquiries may be directed to Dennis Lanski at 877-853-1573
Bowtie Promotions is a registered trademark of Bowtie Promotions Incorporated.