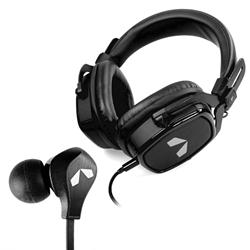 Las Vegas, NV (PRWEB) August 14, 2015
In association with leading industry audio experts, Sonic Unity has designed on-ear and in-ear headphones directly available from the manufacturing facility to retailers by way of crowdfunding. This arrangement keeps advertising, marketing and production costs low in order to provide audio products that perform well above their price points. The production is limited to a single run with a total of 20,000 units worldwide for each model. The more a retailer buys, the less there will be left for competitors.
Jason Lim, a major participant in this crowdfunding project, is an audio industry leader who co-founded NuForce, an award-winning audio brand that helped reinvent high-end audio for the digital age, where he served as CEO from 2004 to 2013. Jason, who developed several award-winning headphones reviewed by Wired, CNET, New York Times, The Absolute Sound and others, had been wondering how to offer the same quality at budget prices. The solution lay in partnering with Sonic Unity for a crowd-funding project that sets out to produce exceptional products at factory-direct pricing.
Sonic Unity's manufacturing partners, having created headphones for some of the world's leading brands, are more than capable of designing and producing superior products. The ENCORE RockMaster OE & IE Headphones are the first designs based on this business model. Reviews confirm that these are the best-sounding under-$100 headphones. Indeed they compare favorably to products costing four times as much, making them the ideal budget solution for mobile listening and as gifts for the holidays.
Sonic Unity relies on crowd-funding for a single production run to keep costs as low as possible – thus the chance that the same product may not be available for subsequent retail sales. To better promote this new business model, the project offers a 100-pack bundle of IE or OE headphones with free shipping worldwide priced as low as 60% below retail. This bulk quantity is designed to target small resellers and online retailers worldwide.
The ENCORE RockMaster OE Headphone
Features

50mm dynamic speaker driver
Soft and breathable memory foam ear pad and padded head band for exceptional comfort.
Replaceable braided fabric-jacket 3.5mm male-to-male headphone cable
Frequency Response: 20–20,000 Hz
Impedance: 32 ohm
Sensitivity: 107 dB
The ENCORE RockMaster IE Headphone
Features

Balanced Armature and Dynamic Dual Driver earphones: BA driver Size: 7.9mm x 4.3mm x 2.97mm; Dynamic driver size: 9mm
Balanced Armature Driver delivers the speed and high frequency extension; Dynamic Driver produces deep bass and full mid range sound
Frequency range: 20~20KHZ
Impedance: 12 Ohms
SPL at 1KHZ: S103+-3db
Microphone & mute button
an assortment of rubber and foam ear inserts to provide a perfect, comfortable, custom fit
To find out more about this campaign, please visit http://bit.ly/1U45Viy
About Sonic Unity
Sonic Unity was formed in early 2015 as a collaboration of music lovers, audio experts, musicians and audiophiles. Our purpose and aim is superior sound irrespective of price -- well designed, simple to use audio products that offer the listener a real taste of high-end audio at affordable prices. Sonic Unity CEO Rick Hopkins, has a unique background in music, concert design, consumer and pro audio. As a designer, Rick has created concert events for Bryan Adams, Rush, Van Halen, Spinal Tap, Rod Stewart and The Rolling Stones. He has provided planning and site management for music festivals such a Lollapalooza featuring acts such as Primus, Alice in Chains, Tool, Rage Against the Machine, The Smashing Pumpkins, and Green Day.
Press Contact: Jason Lim
Email: jasonl(at)heapventure(dot)com
Phone: 702-997-2191