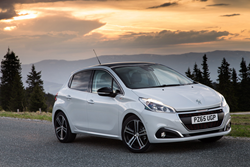 It illustrates perfectly the sophistication and premium styling that enhances the entire Peugeot range.
(PRWEB UK) 17 August 2015
The significantly revised Peugeot 208 is available to order now, ahead of the registration change on 1st September.

Emissions as low as 79g/km due to advanced BlueHDi diesel technology
Innovative Just Add Fuel™ finance is available from just £149 PCM (per calendar month)
The significantly revised Peugeot 208 is available to order now as a brand new 65-plate, ahead of the registration change on 1st September, with its arrival in Dealerships soon after. It will mark the start of another chapter in the Brand's highly successful 'small car' story.
Although an advanced and highly innovative vehicle when it was first launched in 2012, the Peugeot 208 has now been finessed in many key areas. With a more assertive design and new ultra-efficient Euro 6 engines, the re-invigorated model boasts a much enhanced specification, with extra safety equipment and desirable new comfort and convenience features – all the right ingredients for today's discerning customer.
The 208's new front end creates a sharper and more precise line, with a wider grille and deeper chrome finisher that is now fully integrated. At the rear, the LED light clusters have been redesigned to incorporate Peugeot's signature 3D 'claws' motif. Enhancements include exclusive new 16 and 17-inch wheel options, available in a choice of painted, diamante and laser-engraved finishes.
A palette of 13 vibrant colours means there's something for everyone, including a world-first technology for a production vehicle of 'textured paint'. It illustrates perfectly the sophistication and premium styling that enhances the entire Peugeot range.
Personalisation option packs – two interior and two exterior – are now also part of the 208 range, each available in either Menthol White or Lime Yellow. These striking additions to the 208's elegant style are a factory-fit option from Active trim level and in combination with the other design enhancements, they're indicative of Peugeot's continued move upmarket.
Key to the appeal of the new 208 is its efficient engine range. The Brand's critically acclaimed BlueHDi technology is the most effective emission control system on the market today and means every diesel 208 has CO2 emissions of below 95g/km.
Expected to prove popular and now available to order is the 1.6-litre 75 S&S diesel engine, mated to a five-speed manual gearbox. It's capable of an astonishing 94.2 mpg on the Combined Cycle – a segment record – with CO2 emissions of just 79 g/km.
Petrol engines remain a popular choice with retail customers and the revised line-up promises high mileage and low running costs. New PureTech three-cylinder units – either 1.0-litre 68hp or 1.2-litre 82hp – are both now available in the 208.
The new 208 is available in three and five-door body styles and comes in four generously equipped trim levels: Access A/C, Active, Allure and GT Line. The latter is a new addition to the range and, following the lead of the larger 308, adopts many of the styling attributes of the iconic GTi model.
For a more performance-oriented body style, GTi, GTi Prestige and 'GTi by Peugeot Sport' are available as three-door variants. The latter builds on the success of the 208 GTi 30th, the most exclusive and radical GTi the company has created. With unique badging, it features a lowered ride height, wider tracks, Torsen-differential, 18-inch wheels, matt black exterior features and sports seats.
The list of new equipment on the 208 is headed by Active City Brake, which makes it possible to avoid an accident or reduce its seriousness, in urban conditions, at speeds of less than 20mph. Park Assist and a reversing camera are available as a combined option from the Allure trim level too. All versions of the 208 now come with manual air conditioning and Bluetooth connectivity as standard.
Prices for the new Peugeot 208 start from £11,695, with the most popular Active and Allure models priced from £12,495 and £14,195 respectively.
Why not pay using Peugeot's innovative Just Add FuelTM finance offer? You can have a 208 Active three-door PureTech 68 from as little as £149 PCM. The offer currently includes free Active City Brake, visibility pack and reversing camera.
Or, for just £179 PCM, opt for the 208 Allure five-door PureTech 82, which includes Active City Brake, reversing camera and Satellite Navigation as standard. The APR on both offers is just 3.9%, with an incentivised deposit contribution of £1,000.
About Peugeot
The Peugeot brand can trace its roots back to 1810. It was in 1890 that it began producing internal combustion powered automobiles. Since then, over 65 million vehicles have been produced. Demonstrated through its Brand signature 'Motion & Emotion', Peugeot is present in 160 countries, has 10,000 franchised Dealers and is recognised for the quality and design excellence of its products.
Peugeot UK
The UK is the 3rd largest market for Peugeot with its UK Headquarters located in Coventry. The UK car line-up includes the 108, 208, 308, 508, 2008, 3008, 5008 and RCZ, supplemented by people-carriers and a four-van range.
Peugeot UK Communications Contacts
Andrew Didlick, Director Communications, Events & Brand Partnerships
T: +44 (0)2476 884309 | M: +44 (0) 7836 362859 | E: andrew.didlick@mpsa.com
Kevin Jones, Head of Communications, Peugeot UK
T: +44 (0)2476 884215 | M: +44 (0) 7880 786596 | E: kevin.jones@peugeot.com
Louise Dowling, PR Manager, Peugeot UK
T: +44 (0)2476 884216 | M: +44 (0) 7767 490420 | E: louise.dowling@peugeot.com
Kerry Livesey, Press Officer, Peugeot UK
T: +44 (0)2476 884212 | M: +44 (0) 7940 078848 | E: kerry.livesey@peugeot.com
Craig Morrow, Press Fleet Officer
T: +44 (0)2476 884261 | M: +44 (0) 7747 764745 | E: craig.morrow@mpsa.com
For high-resolution downloadable images of the Peugeot product range, information and news stories, log onto the dedicated Peugeot Press website at: http://www.peugeotpress.co.uk (Newspress passwords apply)
Peugeot UK website: http://www.peugeot.co.uk