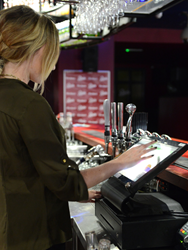 London, UK (PRWEB UK) 13 August 2015
Casio Electronics Co Ltd, have announced that Stadia Nightclub, including 'The Bierhaus' German Pub in Norwich, has adopted the Casio V-R7000 Hospitality Cloud EPOS solution throughout to enable efficient, friendly service. From day 1 of the new venture, the management team were determined that visits to the bar for service would be smooth and seamless, searching with their trusted retail partner, MicroTill, to identify the latest superfast serving technology.
MicroTill recommended deployment of PC free EPOS solutions and stress tested a couple of market options as the final décor touches to the venue were being applied. The new Casio V-R7000 Android POS solution came out far faster in terms of entry, ease of use and sensitivity to touch and it offered Stadia a seamless interface into a Cloud-based platform packed with hospitality applications to help optimise their business, directly from the internet. With an impressive 15.4 inches of viewing and an easy flick through menu system the V-R7000 is ideally suited for the fast pace of the hospitality trade. Steven King, Managing Director of Stadia notes. "Accurate finger recognition and tracking is key to fast and precise order taking. We found that Casio's touch screen sensitivity backed by their larger, vivid screen was far superior, so we placed an order for 8 across the venue."
MicroTill were on hand for every element of the install, from inception to completion, uploading the venue's drinks and food options prior and ensuring connectivity come opening night. Given that the V-R7000 is designed as plug and play into hospitality environments, there was no awkward PC set-up, with each unit featuring wireless connectivity for a fast and uncomplicated install. Housed on the counters, the team were pleased to note that the V-R7000 was spill proof and wipe clean sitting on a small-base, in a contemporary unit that looked the part in the new surroundings. Training was straightforward, with the 30 strong staff liking the big screen, vivid colour images and backdrop together with additions like Stadia Loyalty card tabs to automatically generate discounts. The busy opening night passed successfully and the install continues to surpass expectations:
With the back office Cloud access enabled, Steve and his managers now have a secure log-in vantage point on the business and ongoing sales and can access reports on and off site. "Not only can I sit in my office 6 miles away and see how sales are going, or call up that days' top selling item, I can view who the top servers are and reward them accordingly." Recognising that hard working staff equate to happy customers, Steve rewards bonuses each month to the top two staff members identified by the V-R7000. For staff assistance, the V-R7000 efficiently guides servers through each transaction, prompting appropriate upsells, deals and promotions along the way.
Programming price changes and promotions is incredibly easy and conducted by one of Stadia's Managers, Kerry Hale. She comments: "The back of house system is simply amazing. I make all the changes to prices, promotions or adding staff keys via the Casio Cloud. It's just a couple of clicks to upload new items, add a promotion for the night, or change prices. I can do it remotely accessing the management console and even via my phone while sat in the bar!" Readings per till area are also tracked throughout the night, allowing management to track flow and rotate serving staff to help in busier areas.
Stadia offers a popular food menu – and there's a direct interface from the V-R7000s into the kitchen printer ensuring that customer preferences on their food items are captured accurately and that food is delivered in the correct rotation.
Stocking is also controlled by the V-R7000. Each Monday, stock is reconciled using Casio Cloud's sales tracking tool to verify stock counts against sales and highlight discrepancies over and above noted wastage. This helps deter any attempt to give away drinks and given that each transaction is tracked through individual servers' keys, anomalies are easy to spot. In the near future, automatic ordering through the stock management application onto trusted suppliers will be deployed once pre-set thresholds are exceeded.
-Ends-
About Casio Electronics:
Since the launch of the Casio Computer Company in Japan in 1957, the company has been guided by the core principles of 'Creativity and Contribution'. Casio is a vibrant, energetic and innovative brand that sustains its competitive edge by seeking new and improved approaches to meet customer demands. Well-known around the world for its consumer electronics products such as calculators, watches, digital cameras and electronic pianos, Casio also has a strong business to business heritage http://www.casio.co.uk/products.