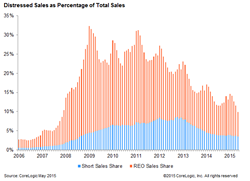 Michigan had the largest share of distressed sales of any state at 21.4 percent1 in May 2015
Chicago, IL (PRWEB) August 13, 2015
Lenders like The Federal Savings Bank were pleased to read a recent August 6th article from Corelogic highlighting data relating to a continued decline in distressed home sales.
Corelogic, a provider of financial, property and consumer information, stated in its article titled "Distressed Sales Accounted for 10 Percent of Homes Sold Nationally in May 2015" that distressed sales fell 1.7% from April 2015 to May 2015, which is the lowest level since 2007.
As a reminder, distressed sales peaked in January 2009 at 32.4% of all sales. Corelogic stated that "There will always be some level of distress in the housing market, and by comparison, the pre-crisis share of distressed sales was traditionally about 2 percent. If the current year-over-year decrease in the distressed sales share continues, it would reach that "normal" 2-percent mark in mid-2018."
Regionally, "Michigan had the largest share of distressed sales of any state at 21.4 percent1 in May 2015, followed by Florida (21.3 percent), Maryland (20.3 percent), Illinois (19.4 percent) and Connecticut (19.3 percent). Nevada had a 7.0 percentage point drop in its distressed sales share from a year earlier, the largest decline of any state. California had the largest improvement of any state from its peak distressed sales share, falling 58.1 percentage points from its January 2009 peak of 67.5 percent. While some states stand out as having high distressed sales shares, only North Dakota and the District of Columbia are even close to their pre-crisis numbers (within one percentage point)."
The Federal Savings Bank thinks the current environment of lower distressed sales is encouraging to young first-time home buyers looking to purchase a property with financing. While a distressed home might be listed at an attractive price to first-time home buyers, they are also difficult to purchase without cash. A lower number of distressed sales is a good reflection that investors using cash are declining and individuals bidding and purchasing with financing is increasing. This environment will lead to higher property values as more pre-approved home buyers will have an opportunity to bid on the same properties.
Now is a great time to search for a property to purchase as mortgage rates remain near historic lows and they need home prices are still below pre-crisis levels.
If in need of a home loan pre-approval, contact The Federal Savings Bank, a veteran owned bank, to explore affordable mortgage options.