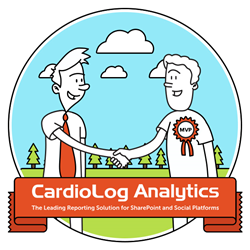 To Cloud or not to Cloud?
Boston, MA (PRWEB) August 12, 2015
The CardioLog Analytics team is happy to announce their upcoming webinar "5 Steps to Take Before Migrating from SharePoint to the Cloud" with Knut Relbe-Moe, an Office 365 MVP. The webinar will take place on Wednesday, August 19th, at 11:00 AM EST.
The webinar will cover the topic of SharePoint Migration to the cloud,. Knut will discuss the big question of the day "To cloud or not to cloud?" If your company is thinking of going to the SharePoint cloud, join this session to get Knut's 5 steps organizations need to complete before moving to the cloud. You will get help to make the decision if your company should migrate all the way to the cloud, or just partly to the cloud with hybrid. Join this session to learn what the cloud can offer your company and how you can migrate to the cloud with success.
To register, click here:
About Knut Relbe-Moe:
Office 365 MVP and MCT, SharePoint evangelist, speaker, mentor, Chief Technical architect, working for Knowledge Factory. Knut is an old developer, that have taken the step into architecture/advisor and the bigger questions. Knuts main focus is helping clients upgrading SharePoint either with upgrading or with migration. Knut helps clients with questions around SharePoint Infrastructure and to follow best practices on creating the environment. He also helps with questions about Search, automation, and everything that can be done with PowerShell. He also advice the clients on making decisions about OnPremise or Cloud, or Office 365. Knut is also the founder of NIWUG (Norwegian Information Worker User Group) and organizer of SharePoint Saturday Oslo (Norway)
About Intlock:
Intlock was founded in 2005. Ever since, it has been a leader in analytical solutions for SharePoint Intranets and Internet websites. As the company's flagship product, CardioLog Analytics set Intlock apart and put it ahead of the competition. CardioLog provides organizations with insights on how their SharePoint portal is being used, and helps optimize the portal. As organizations started to expand, so did the use of SharePoint to public facing websites. A demand grew for marketing tools designed for SharePoint, which lead to the release of the SharePoint Marketing Suite, which includes a wide range of marketing solutions for enterprise-level websites.
Today, Intlock products support all of the SharePoint versions, including the new 2013 edition. They offer a variety of insightful features and tools to help optimize portal and site productivity, as well as maximize the ROI.
Intlock, based in Boston, Massachusetts, has offices and partners throughout the world. Some of the customers utilizing these products are large worldwide enterprises such as Applied Materials, Fidelity Investments, and US Department of State. Intlock also offers a variety of packages for small business and NGO's.
For more information about this topic, please contact James Wright at +1-617-500-8461 (US) or email info(at)intlock(dot)com or james(dot)wright(at)intlock(dot)com.