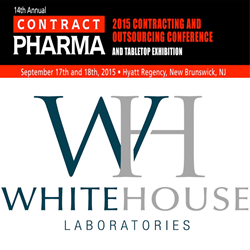 This conference provides an excellent platform that brings together key industry companies and the service providers that work with them to bring quality products to the market.
Whitehouse, NJ (PRWEB) August 13, 2015
Whitehouse Laboratories is excited to announce that once again it will be participating in the Contract Pharma Magazine's 14th Annual Contracting & Outsourcing Conference & Tabletop Exhibition, devoted to outsourcing in the pharma and biopharmaceutical industries. The event will be held on September 17-18, 2015, at the Hyatt Regency New Brunswick, NJ, located in the heart of New Jersey's pharmaceutical industry. The tabletop exhibition will be held on Thursday, September 17th with an additional half day of sessions held on Friday, September 18th. The meeting will feature Keynote speaker Scott Gottlieb, MD, a leading expert in health policy, and former FDA Deputy Commissioner for Medical and Scientific Affairs, who will provide insights into the economic and technological forces driving the transformation of healthcare. Other Speakers representing the FDA will discuss the need and effective use of Quality Agreements with contract manufacturing organizations (CMOs) and current inspection trends that are becoming increasingly relevant within the outsourcing industry.
"This conference provides an excellent platform that brings together key industry companies and the service providers that work with them to bring quality products to the market. This gives us a great arena to touch base with current clients and meet potential new ones while learning all the latest industry trends," states Whitehouse Labs COO Mark Stier.
Rodman Media Corp President, Rodman J. Zilenziger added, "The Contract Pharma conference & tabletop exhibition is a great opportunity to visit a wide cross section of contract service suppliers. Attendees have told us it is very worthwhile with well organized topics. Exhibitors tell us that it is the best value of all the trade shows they attend and we sell out every year."
In addition to the keynote FDA presentations, other key topics to be covered include the use of serialization to track and trace product from manufacture through distribution, current trends in the contract services industry, maintaining quality and compliance in this highly regulated environment even when faced with tough economic times and the effects of globalization on drug discovery outsourcing.
In addition, conference attendees will have the chance to learn about recent USP method revisions and pending updates to the USP 661 and USP 671 chapters. Conference attendees will also have the chance to register with Whitehouse Labs to receive monthly updates on USP changes directly from our quality review staff.
All of the key service area directors for Whitehouse Laboratories will be available at the conference to discuss and review all presentation topics and to bring booth attendees up to date on new test methods, recent laboratory expansion plans and new services. For more information about the conference, please visit: conference.contractpharma.com
Whitehouse Laboratories - The Testing Partner to Manufacturing Companies, Whitehouse Labs is an FDA regulated, DEA Licensed, ISO 17025 and ISTA certified contract service provider to the pharmaceutical, medical device, personal and consumer product industries. Whitehouse Laboratories offers analytical services for the testing of materials, finished products, container and package systems that enable our clients to meet and exceed the required quality standards established by the key regulatory agencies.