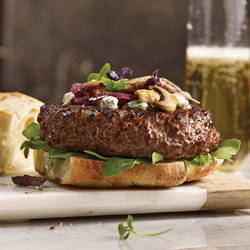 The Filet Mignon is an extremely tender cut of steak making this burger tender, juicy and flavorful," said Senior Vice President and family owner Todd Simon. "This is the new platinum standard in burgers."
Omaha, Neb. (PRWEB) August 13, 2015
In celebration of National Filet Mignon Day, Omaha Steaks announced today the addition of a new Omaha Steaks original: the first ever Filet Mignon Burger. The new Filet Mignon Burger will join Omaha Steaks growing list of premium beef and gourmet foods available direct to consumers.
The Filet Mignon Burger is a unique 6 oz. burger patty ground completely from Omaha Steaks' world-famous Filet Mignon, known for its tenderness and mild beef flavor. Offering the same extraordinary quality and taste customers have come to expect from the Omaha Steaks Filet Mignon, this product is the first burger of its kind to be sold and shipped direct to consumer's homes.
"We are excited to expand our burger offering with this one-of-a kind burger. The Filet Mignon is an extremely tender cut of steak making this burger tender, juicy and flavorful," said Senior Vice President and family owner Todd Simon. "This is the new platinum standard in burgers."
According to BeefRetail.org Top 10 Middle Meat Cuts, more than 8 million pounds of tenderloin steaks were sold in the US during the 2nd quarter of 2015, making filet mignon an extremely popular choice among consumers.
"Our filets are known for their exceptional quality and this gives customers another way to enjoy them," Simon added.
The new Filet Mignon Burger will join Omaha Steaks expansive list of gourmet burgers launched last year, including the Brisket Burger, Pork and Bacon Burger, Lamb Burger, Garden Sun Veggie Burger, Aztec Salmon Burger, Turkey Burger, Bison Burger and old favorites including the Omaha Steaks Burger, Gourmet Burger and Private Reserve Angus Burger.
For more information about Omaha Steaks new Filet Mignon Burger, visit http://www.OmahaSteaks.com.
About Omaha Steaks
Omaha Steaks, founded in 1917, is an Omaha, Nebraska-based, fifth-generation, family-owned company that markets and distributes a wide variety of the finest quality USDA-approved, grain fed beef and other gourmet foods including seafood, pork, poultry, side dishes, appetizers, complete meals and desserts. Today, Omaha Steaks is recognized as the nation's largest direct response marketer of premium beef and gourmet foods, available to customers by calling 1-800-228-9055, online at http://www.OmahaSteaks.com or at retail stores nationwide.
###