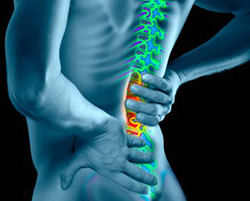 While baseball fans await the results of a star third baseman, other athletes and non-athletes alike enjoy the benefits of physical therapy for their own low back pain.
Albany, NY (PRWEB) August 20, 2015
The NY Mets have been riding outstanding pitching most of this season to the top of the National League east standings. Hitting has been a source of frustration throughout this year for Mets' fans with the team batting just .237 collectively as of early August ranking just 22nd out of 29 major league baseball teams. A major reason for the Mets' offensive drought has been unexpectedly losing their top hitter David Wright to a back condition called spinal stenosis. He went on the disabled list during just the second week of the season on April 14th and has yet to return to action for the Queen's based franchise. The team has also endured losing relief pitcher Buddy Carlyle to lower back pain (LBP) and currently has outfielder Kirk Nieuwenhuis on the disabled list for the same reason. At just 32 years old Wright has been doing back rehabilitation for almost 4 months but is he making the right decision for his health?
According to the New York Physical Therapy Association (NYPTA) a study from the Annals of Internal Medicine, published just a week before Wright's injury (April, 2015), supports his approach in finding physical therapy (PT) to be just as effective as decompression surgery for relieving symptoms and improving function in patients having lumbar spinal stenosis.(1) Lumbar spinal stenosis is a narrowing of the lower spine resulting in one or more compressed nerves resulting in pain quite often and nerve related abnormal sensations or even weakness for the muscles the nerve supplies. In this study the individuals were randomly assigned into either a group doing physical therapy or to one receiving surgical decompression surgery. Physical function outcomes were used to measure progress for all 169 study participants at 10 weeks, then 6, 12, and 24 months. No significant differences in the group's physical function outcomes were found between those that had decompression surgery and those that relied on just physical therapy treatment. These findings are consistent with previous research that found limited long term benefits of surgery for spinal stenosis of the lower back.
"While baseball fans await the results of a star third baseman, other athletes and non-athletes alike enjoy the benefits of physical therapy for their own low back pain." NYPTA member, Ken Stack PT, MS, MSF, CSCS emphasized, " LBP is nearly universally experienced by most of us at some point in our lives; therefore, finding the best strategy in addressing LBP when it occurs has relevance for us all. Preventing reoccurrences and avoiding a worsening of a degenerative condition like stenosis in a cost effective manner is essential for us and our family's health."
The Journal Physical Therapy also published findings as the baseball season began in April. It was found that young children aged 8 to 11 that were taught about spine health and instructed in just 4 daily spinal exercises reported significantly fewer episodes of LBP than those that received spine education only. The researchers hypothesized that this form of early intervention can prevent further episodes of LBP and reduce the severity of any adult experienced pains. (2)
Physical therapy has been shown to also prevent LBP in adults from becoming a more serious and expensive condition like the one David Wright is experiencing. A study in the journal Health Services Research found that patients with new episodes of LBP that began physical therapy within 6 weeks of being referred by their primary care physician generated less than half the healthcare costs of those patients that were alternatively referred for imaging as a first step. The physical therapy referral group also generated 72% lower associated healthcare costs over the next year compared with those patients that began with MRIs. BMC Health Services Research did a similar review of health care utilization for over 122,000 patients for a longer two year period and calculated a similar cost savings of over 60% compared with those that delayed PT.
Physical therapy for LBP is, therefore, generally found to be a cost-effective solution for patients. Viewing PT as the starting option for an episode of back pain, whether it is your first episode or a recurring chronic condition, has the potential for positive results. Those with LBP have the opportunity to avoid being subjected to invasive imaging tests, injections, pain medications, and surgery. Receiving prompt physical therapy intervention specific to the cause of symptoms is a logical first step in staying ahead of LBP.
Mike Mattia, New York Physical Therapy Association (NYPTA) Chapter President stated, "It is important to support further research that helps us understand the impact and timing of physical therapy for LBP. NYPTA is funding research that is currently investigating this very issue and we have partnered with the Foundation for Physical Therapy to promote research and evidence. Knowing how physical therapy can impact the overall health of individuals with LBP is very important to transforming society. "
To learn more about physical therapy and various conditions associated with PT care, or to find a Physical Therapist, visit the consumer friendly website, http://www.moveforwardny.com today.
1. Ann Intern Med. 2015;162(7):465-473. doi:10.7326/M14-1420 http://annals.org/article.aspx?articleid=2214174&resultClick=3
2. PHYS THER February 2015 95:e1-e18; doi:10.2522/ptj.2015.95.2.e1 http://ptjournal.apta.org/content/95/2/e1.abstract?sid=c493ff3c-9bdb-48e5-9ea6-9756a52ea4bb
ABOUT THE NEW YORK PHYSICAL THERAPY ASSOCIATION:
The New York Physical Therapy Association is a professional, non-profit association of approximately 12,000 Physical Therapists (PTs), Physical Therapist Assistants (PTAs) and PT/PTA students. The NYPTA is dedicated to serving the public's health interests, improving the standard of health for people of all ages and advancing the benefits of physical therapy and the interests of physical therapy professionals in state of New York. To learn more about the New York Physical Therapy Association please visit http://www.nypta.org.