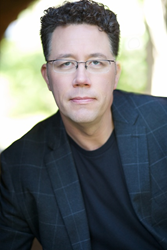 The Chautauqua Opera Company has played an important part in my professional life since my debut in 2009, and the Institution has become a beloved retreat for my entire family.
CHAUTAUQUA, N.Y. (PRWEB) August 12, 2015
Chautauqua Institution is pleased to announce the appointment of Steven R. Osgood as the general and artistic director of the Chautauqua Opera Company. In this capacity, Osgood will also serve as an advocate for the company and the classical arts within and beyond the Chautauqua community. Osgood, who has served as guest conductor at Chautauqua many times, succeeds Jay Lesenger, who announced in April that he will step down at the end of the calendar year.
"The Chautauqua Opera Company has played an important part in my professional life since my debut in 2009, and the Institution has become a beloved retreat for my entire family," Osgood said. "I am grateful for all of the opportunities Jay has given me, and am thrilled to begin this new relationship with the Institution as we plan evolution and growth for the Chautauqua Opera. I look forward to this new era as we explore how vital opera can be to today's audience and all of the generations that make up the Chautauqua community."
Osgood will begin his responsibilities effective Sept. 1 in preparation for his inaugural season in 2016. His public debut as the leader of the Chautauqua Opera will take place at the company's annual Amphitheater production with the Chautauqua Symphony Orchestra on Saturday, July 9, 2016. The repertoire for his inaugural summer will be announced in the fall.
Osgood's appointment is the culmination of a search and selection process led by Deborah Sunya Moore, Chautauqua Institution's incoming vice president for the performing and visual arts, with the assistance of a search committee of Institution trustees, Chautauqua Opera Guild members and community members.
"This is an electrifying time for the arts at Chautauqua. With the appointment of Chautauqua Symphony Orchestra music director Rossen Milanov now joined by the appointment of Steven Osgood as the artistic and general director of the Chautauqua Opera Company, we are in an era of evolution. Both directors join an already-enviable artistic leadership team and have strong legacies to build on," Moore said. "Steven comes to us with a deep vision, setting one eye on innovation and the other on a commitment to the rich tradition of opera."
Osgood has appeared at Chautauqua regularly since the 2009 season, guest conducting the Chautauqua Opera's recent productions of The Ballad of Baby Doe (2014, Norton Hall) and Peter Grimes (2013, Amphitheater), and the popular annual Opera Highlights concert each season from 2011 to 2014. An experienced conductor both in theater and opera from the baroque to the contemporary, he has conducted for many prominent companies in North America, including Fort Worth Opera Festival, Beth Morrison Productions, the PROTOTYPE Festival, Opera Memphis, Atlanta Opera, Wolf Trap Opera, Sarasota Opera and New York City Opera. His work with young artists has included numerous productions with The Juilliard School and Manhattan School of Music. He has been on the music staff of the Metropolitan Opera since 2006.
From 2001 to 2008, Osgood served as artistic director of American Opera Projects, a company dedicated to collaborating with emerging artists in the fields of opera and music theater. Osgood is still an artistic contributor to AOP, serving as artistic director of the company's Composers and the Voice Fellowship, which is entering its eighth season. Also with AOP he conducted the 2014 world premiere of Laura Kaminsky's As One.
Earlier this summer, Osgood conducted Opera Saratoga's world premiere of The Long Walk, an opera based on the book by Brian Castner, which was a 2013 selection of the Chautauqua Literary and Scientific Circle. In October, he will conduct the West Coast premiere of Missy Mazzoli and Royce Vavrek's Song from the Uproar with the Los Angeles Opera.
Read his full biography at http://www.srosgood.com.
Founded in 1929, the Chautauqua Opera is North America's oldest continuously operating summer opera company and fourth oldest opera company after the Metropolitan Opera, Cincinnati Opera and San Francisco Opera. The 2015 Chautauqua Opera season offered a fully staged production of Macbeth in Chautauqua Institution's 4,000-seat Amphitheater and another in Norton Hall. Chautauqua Opera productions feature internationally recognized guest artists as well as promising young singers from our Young Artist program.
The pre-eminent expression of lifelong learning in the United States, Chautauqua Institution comes alive each summer with a unique mix of fine and performing arts, lectures, interfaith worship and programs, and recreational activities. Over the course of nine weeks, more than 100,000 people visit Chautauqua and participate in programs, classes and community events for all ages — all within the beautiful setting of a historic lakeside village. Smithsonian magazine named Chautauqua as the No. 1 "Best Small Town to Visit in 2014" in the cover story of its April 2014 issue.