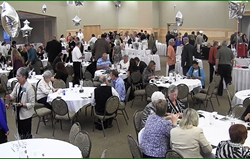 AKRON, OH (PRWEB) August 12, 2015
Mature Services will be holding their 11th annual "The Melting Pot ~ A Taste of Many Nations" fundraiser on September 10th at St. George Family Center in Akron.
The event includes a silent auction with currently over 80 unique items. Auction items include everything from dance lessons at Cannon Irish Dance to a ride on the GoodYear blimp, tickets to the Akron Symphony, mini-manicures/pedicures and massages from Blondie & Co. Salon, an AAA membership and so much more.
Over a dozen restaurants will set up booths around St. George's Family Center for the event, offering an array of cuisine from around the world. Participating restaurants include Aladdin's Eatery in Fairlawn, TLC Catering, Saffron Patch, North End Market, Angel Falls Coffee Company, Wally Waffle, The Stew Pot, Village Gardens Restaurant, New Era Restaurant and more to be announced.
A raffle with three great prizes will be going on throughout the evening. Purchase a raffle ticket and you have the chance to win two round-trip tickets on Southwest Airlines, two passes to King's Island or 8 VIP passes to the Animal Safari Wildlife Park.
Sponsors of this year's event include SummaCare, Employee Benefits International, Brennan, Manna & Diamond, Dominion, County of Summit ADM Board, Bober, and Markey Fedorovich.
"The Melting Pot ~ A Taste of Many Nations" will be held on September 10th, from 5:30 pm- 8:30 pm at St. George Family Center, located at 3204 Ridgewood Rd. in Akron, OH. For more information, visit http://matureservices.org/mp/meltingpot2015.php or call Megan at 330-253-4597 x199.
Mature Services provides high-quality programs to empower the economic, social, physical, and mental well-being of adults as they age. Programs include homecare, integrated mental health counseling and addiction prevention and treatment, job training, home-delivered and congregate meals, volunteer opportunities and an emergency food pantry.