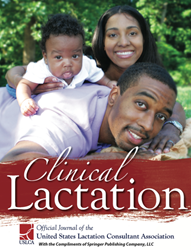 Specifically, this study examines the impact of type of delivery, use of pain medications and epidurals, episiotomy, and inductions on both breastfeeding and postpartum depression.
Amarillo, Texas (PRWEB) August 26, 2015
A new article published in Clinical Lactation addresses potential negative outcomes of epidurals and other birth interventions. Birth Interventions Related to Lower Rates of Exclusive Breastfeeding and Increased Risk of Postpartum Depression in a Large Sample, was written by Kathleen Kendall-Tackett, PhD, IBCLC, FAPA, Zhen Cong, PhD, and Thomas W. Hale, PhD.
Kendall-Tackett, Cong, and Hale specifically examined the effects of birth interventions on exclusive breastfeeding and postpartum depression using data from the Survey of Mothers' Sleep and Fatigue, a study of 6,410 new mothers from 59 countries. They found that epidurals were associated with lower exclusive breastfeeding rates and higher rates of postpartum depression even after controlling for other factors that increase mothers' risk of depression, such as history of depression and sexual assault; income and education level; and the other birth interventions. In addition, mothers were more likely to be depressed if they perceived their labors as very painful and difficult, and if they had postpartum complications, such as hemorrhage or surgery. These findings contradict previous studies that found that birth interventions, particularly epidurals, had no negative effect on maternal mental health or breastfeeding. According to Dr. Kendall-Tackett, this current study is important because the sample size is large enough to allow the researchers to control for many of the factors that could account for mothers' depression.
"The majority of previous studies found that epidurals did not negatively affect either breastfeeding or maternal mental health. However, most of those studies were severely limited by small sample sizes. Our study has one of the largest samples to date and accounts for many of the other factors that put women at risk for depression. The significance of our study is that even after we controlled for all these other factors, epidurals still increased risk for depression. For an individual mother, having an epidural can be the right choice. But we should not assume that that choice has no consequence. It does. We should be sure to monitor mothers who have epidurals for signs of either breastfeeding difficulties or depressive symptoms."
Dr. Kendall-Tackett, author of Depression in New Mothers, 2nd Edition (Routledge), is a health psychologist and International Board Certified Lactation Consultant. She is a Fellow of the American Psychological Association in Health and Trauma Psychology, a Clinical Professor of Nursing at the University of Hawaii at Manoa, and Clinical Associate Professor of Pediatrics at the Texas Tech University School of Medicine in Amarillo, Texas. Dr. Kendall-Tackett is Editor-in-Chief at Praeclarus Press is a small press that specializes in women's health based in Amarillo, Texas. Dr. Cong is Associate Professor of Human Development and Family Studies at Texas Tech University in Lubbock, Texas. Dr. Hale is Professor of Pediatrics at Texas Tech University School of Medicine in Amarillo, Texas and Director of the InfantRisk Center at Texas Tech.