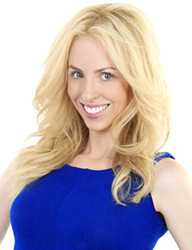 Today's law firms look to improve productivity and the bottom line. I'm excited to be in a position to help them do both.
Tempe, Ariz. (PRWEB) August 12, 2015
nQueue, the leading provider of cost recovery and document scanning and routing technology, today announced the appointment of Jessica Bernard as Business Development Manager, Manhattan. Ms. Bernard is resident in New York City and will focus her efforts on helping major law firms focus on how they can leverage nQueue cost recovery and scanning and routing products to improve their efficiency and profitability.
Ms. Bernard joins nQueue from TetherView, where she assisted firms with private cloud services. Prior to that, she was at Thomson Reuters, where she very successfully represented the company's Practical Law resources to large law firms. "We are thrilled to have Jessica as part of our team," said Rick Hellers, President and CEO of nQueue. "She is an assertive and knowledgeable advocate who comes to us with great experience in legal technology and services."
nQueue provides cost recovery and document scanning and routing solutions to the legal market and others. Its BillBack cost recovery products helps firms recover more, control costs and use data analytics to make better decisions. Its ScanRoute products help firms reduce paper by making scanning simpler and automatically routing scanned documents. "Today's law firms look to improve productivity and the bottom line," said Ms. Bernard. "I'm excited to be in a position to help them do both."
nQueue recently released major updates to its iA Enterprise Platform, iA Route and iA Workflow products and is planning a number of new products in the coming months, all provided to existing clients at no charge due to the company's Buy It Once Guarantee. "The fact that my clients never have to pay for product upgrades and software updates will help me to deliver the kind of client experience that I am anxious to continue providing," added Ms. Bernard.
Ms. Bernard will be available to demonstrate nQueue's full suite of products at ILTACON Booth 904, August 30 through September 3 at Caesars Palace, Las Vegas.
For more information about nQueue or its Buy-It-Once Guarantee, please visit http://www.nQueue.com.
About nQueue
nQueue provides software-based information accountability solutions to more than 35 percent of the largest 250 law firms in the United States, seven of the top 20 in the U.K., seven of the largest 35 in Australia, and five of the Top 10 globally. The company's Cost Recovery (BillBack) solutions assist firms by enhancing the automation and processing of any operational and administrative expenses, including print, copy, scan, phone, fax, travel, court fees, research, overnight, courier costs, credit card charges and more on an extremely powerful platform. Its Document Scanning & Routing (ScanRoute) solutions enable firms to capture, format, route and control scans to reduce costs associated with document retention and retrieval. nQueue's software offerings, branded iA® for Information Accountability, can be embedded directly into multi-function devices or reside on tablet computers or terminals to provide clients with the knowledge required to run their businesses more profitably. nQueue is a wholly owned subsidiary of Reckon Limited and is the only truly global cost recovery company. To learn more about nQueue and iA, please visit http://www.nQueue.com.