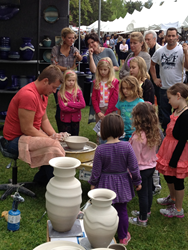 WHITE PLAINS, N.Y. (PRWEB) August 12, 2015
When it comes to unique events and fun attractions in Westchester County, there is no shortage of options for families to choose. Summer is winding down and autumn is coming soon, so make a visit to Westchester, in the heart of the Hudson Valley, and enjoy all there is to explore.
"As the seasons change, the activities get even more exciting here in Westchester," County Executive Robert P. Astorino said. "Whether it is the new events like Circus Latino! and the SoWe Music Festival, or signature attractions like Fall Crafts at Lyndhurst, there is room for everyone to enjoy all that our county has to offer."
The following is a sample of some of Westchester County's upcoming attractions:
Coming Soon!
Calling all tennis fans. As the highly coveted U.S. Open trophy takes its final tour before landing in the hands of the event's champion, it will be stopping by LEGOLAND® Discovery Center Westchester on Thursday, August 20. Try to spot which is the original and which is LEGOLAND's Master Model builder's replica. The LEGOLAND® Discovery Center is a world of entertainment, color and creativity for families with children aged 3-10. The attraction offers a wealth of attractions including two rides, 4D cinema and more. The LEGOLAND® Discovery Center is located at the Ridge Hill Shopping Center in Yonkers. For more information, visit legolanddiscoverycenter.com/Westchester.
The 2016 Miss Westchester & Miss Hudson Valley Pageants are coming soon. Held on Sunday, August 30 at 4:00 p.m. at the White Plains Performing Arts Center in White Plains, the event will bring in hundreds of people looking to see who will take this year's crowns. An exciting event, the Miss Westchester Pageants & Miss Hudson Valley Pageants competitions are divided into three equally scored categories: Interview, Swimsuit, and Evening Gown. The judging is based on poise, personality, intelligence and beauty. For more information, visit westchesterpageants.com.
"Meet Me" for a Circus, Crafts and Music
Experience the art, music and soul of Sleepy Hollow with Circus Latino! at Tarrytown Music Hall from Friday, September 18 to Sunday, September 20. New to Westchester, Circus Latino! will provide five shows of circus dance and art for all to enjoy, plus Brazilian and Ecuadorian music. For more information on event hours and ticket cost, visit http://www.visitsleepyhollow.com or call (914) 631-1000.
The Fall Crafts at Lyndhurst will usher in the fall with the rose garden in bloom and the autumn leaves beginning to change along the majestic Hudson River from Friday, September 18 to Sunday, September 20. This year, 300 artists will fill the grounds of the Neo-Gothic Lyndhurst estate offering the first taste of fall shopping, as well as exciting activities including tours of the Lyndhurst mansion, live music, kid's activities, gourmet specialty foods and craft demonstrations – providing a great day for the entire family at one of America's most beautiful landmarks. Lyndhurst is located at 635 South Broadway in Tarrytown. For more information on event hours and ticket cost, visit lyndhurst.org.
Westchester County thrives with music and culture and the 2015 SoWe Music Festival is a great example of how music is celebrated in the county. To be held on Saturday, September 19, the event will feature multiple stages, dozens of top national and regional artists including Marc Cohn, Felix Cavaliere's Rascals, Shawn Mullins, David Johansen, Steve Forbert, Willie Nile, and others. The festivities will include beer, wine, food trucks, carnival rides and more. The SoWe Music Festival will take place at Harbor Island Park in Mamaroneck. For more information, visit sowemusicfestival.com.
Stay & Play
Make a visit to Westchester County an adventure with the NYC Helicopter Package at the Hilton Westchester. The package allows for guests to get a birds-eye view of Manhattan without having to deal with the heat or buck the crowds on the streets. The premium NYC Helicopter Package includes transportation to and from Port Chester or the Rye Metro-North commuter train station, a buffet breakfast for two, a private helicopter tour of New York City with transportation to and from the hanger at the Westchester County Airport and a bottle of champagne upon return to the hotel. The 445-room Hilton Westchester is nestled on 37 lushly landscaped acres in an affluent suburban town, featuring two pools (indoor and outdoor) and scenic patio dining at Härth restaurant that overlooks the beautifully landscaped grounds. The Hilton Westchester is located at 699 Westchester Avenue in Rye Brook.
For the latest events and happenings in Westchester, log onto http://www.visitwestchesterny.com, like us on Facebook (facebook.com/westchestercountytourism), follow us on Twitter @westchestertour or call 1-800-833-9282. To view the Westchester County Destination Guide, please visit http://digital-editions.todaymediacustom.com/westchester-destination/2015/.
About Westchester County Tourism & Film
Tourism & Film is Westchester County's official destination marketing organization. Its mission is to generate economic benefits by enhancing the image and promoting Westchester County as a premier business and leisure destination in the Hudson Valley region. The Tourism & Film Office in Westchester County is a division within County Executive Robert P. Astorino's Office of Economic Development.