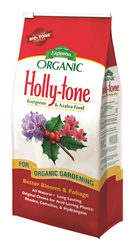 Vendors such as Espoma are leading the way to redefining the garden center experience.
Millville, NJ (PRWEB) August 18, 2015
The Espoma Company has received the ECGC Distributors, Ltd 2015 Award of Excellence. The award recognizes Espoma for superior customer service and high product satisfaction.
Up against 65 other vendors, Espoma is the first to win the Award of Excellence twice. The award measures all companies in ECGC's Preferred Vendors program.
"Each year, companies are evaluated by their commitment to customer service and effectiveness of products by our 12 garden center members," explains ECGC chair, Cathy Fucci from Martin Viette Nurseries. "The company who we all agree rises to the top is selected to win."
For more than 85 years Espoma has been the pioneer in natural gardening solutions. Espoma continues to develop new products and programs to help the independent retailer drive foot traffic into stores. Recent additions include their organic lawn program, mycorrhizae enhanced soil line, online certified digital training program, and the new Safe Paws campaign to help educate pet parents with tips to create a safe outdoors by avoiding the dangers of common lawn hazards.
"Vendors such as Espoma are leading the way to redefining the garden center experience," says Fucci. "We congratulate Espoma on their second and much deserved award in this category."
Jeremy Brunner, Espoma Vice President, says, "We are honored to be receiving the Award of Excellence from ECGC and think of them as true partners."
The Award of Excellence will be presented at the IGC Show in Chicago on August 19 at 10:00 A.M in Booth 1811.
For more information about Espoma Organic products visit http://www.espoma.com
The Espoma Company has been the pioneer in natural gardening solutions since 1929. Espoma provides an extensive selection of natural products that work in harmony with nature and are safe for people, pets and the planet. The company produces more than 100 products to cover the nutritional needs of plants and to grow beautiful lawns and gardens. Visit espoma.com for more information and tips about organic lawn care.
ECGC Distributors, Ltd is a LLC of the twelve of the largest independent garden companies in the United States. Owners include: Al's Garden Center, OR; Armstrong Garden Centers, CA; Calloway Nurseries, TX; Green Acres Nursery & Supply, CA; English Gardens, MI; Homestead Gardens, MD; Mahoney Garden Centers, MA; Martin Viette Nurseries, NY; Molbaks, WA; McDonald Garden Centers, VA; Petitti Garden Centers, OH; Pike Nurseries, GA and Southern Homes & Gardens, AL.