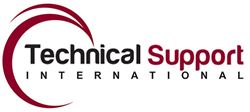 We are grateful to TSI and Moderna Therapeutics for sponsoring our Student Citizenship Award, recognizing graduates who were model citizens during their year with us. - Jamie Grant, Associate Director at Year Up
Foxboro, Massachusetts (PRWEB) August 13, 2015
Technical Support International (TSI) and Moderna Therapeutics have joined together to support Year Up Boston by underwriting the Student Citizenship Award for the January 2016 graduating class. This award recognizes a student from each of Year Up Boston's five learning communities who has exemplified Year Up's core values and has made extraordinary contributions to both the Year Up community and the community at large. This program celebrates Year Up's graduates and supports the mission of closing the Opportunity Divide and providing education and hands-on skill development to urban young adults.
Both TSI and Moderna have had extensive experience working with Year Up students. "The Year Up mission is one that is so vital to our local community and communities across the country, and we are thrilled to be able to support them in any way that we can," said Gerard Louise, Founder and CEO of TSI. "In January we took on an intern from Year Up who was such an integral and fantastic addition to our team that we offered him a full-time position, which he has accepted."
Similarly, Moderna Therapeutics has also had fantastic experience with students in the YearUp program. "When I learned of Year Up's mission and had the opportunity to meet its founder, Gerald Chertavian, I knew I wanted to give this organization a try. As soon as I was able to expand my team, I reached out to Year Up to interview their graduates, I was impressed with every one of them. I currently contract with two graduates full time, they have been a terrific addition to my IT team." said Steven Frederick, Director of Enterprise IT at Moderna Therapeutics, Inc.
"We are thrilled to partner with employers like TSI and Moderna Therapeutics," said Jamie Grant, an Associate Director at Year Up. "Companies who are willing to think beyond standard hiring practices make it possible for Year Up to impact the communities we serve. We are grateful to TSI and Moderna Therapeutics for sponsoring our Student Citizenship Award, recognizing graduates who were model citizens during their year with us."
About Moderna Therapeutics
Moderna is pioneering messenger RNA Therapeutics™, an entirely new in vivo drug technology that produces human proteins, antibodies and entirely novel protein constructs inside patient cells, which are in turn secreted or active intracellularly. This breakthrough platform addresses currently undruggable targets and offers a superior alternative to existing drug modalities for a wide range of disease conditions. The company currently plans to develop and commercialize its innovative mRNA drugs through a combination of strategic relationships as well as newly formed ventures, including Onkaido LLC, focused on oncology drug development, Valera LLC, focused on infectious diseases, and Elpidera LLC, focused on rare diseases. Founded by Flagship VentureLabs®, Cambridge-based Moderna is privately held and currently has strategic agreements with AstraZeneca, Alexion Pharmaceuticals, and Merck. http://www.ModernaTX.com
About Technical Support International
Technical Support International, Inc. (TSI) is a leading information technology (IT) support and Managed Services Provider (MSP) that has been serving businesses throughout New England since 1989. TSI provides technology solutions to customers ranging from small businesses to large corporations. The services provided range from basic computer maintenance to sophisticated computer networking and security solutions, provided through a combination of on-site and remote support. http://www.TSISupport.com
About Year Up
Year Up's mission is to close the Opportunity Divide by providing urban young adults with the skills, experience, and support that will empower them to reach their potential through professional careers and higher education. Year Up achieves this mission through a high support, high expectation model that combines marketable job skills, stipends, internships and college credits. Its holistic approach focuses on students' professional and personal development to place these young adults on a viable path to economic self-sufficiency. Year Up currently serves more than 2,700 students each year at sites in Arizona, Atlanta, Baltimore, Boston, Chicago, Jacksonville, the National Capital Region, New York City, Philadelphia, Providence, Puget Sound, San Francisco Bay Area, and South Florida. http://www.YearUp.org || http://www.YouTube.com/YearUpInc
###