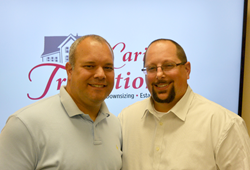 Whiting, NJ (PRWEB) August 12, 2015
Friends John Ely and Jerry Frulio are looking forward to bringing a new service to seniors and families in Ocean County through their new business, Caring Transitions of Ocean County.
Caring Transitions is America's largest resource for managing senior relocations as well as downsizing and estate liquidations. In addition to organizing, packing, decluttering, moving and resettling, Caring Transitions can handle estate sales, liquidations, and preparing homes for market. Caring Transitions of Ocean County serves Bayville, Toms River, Manchester, Whiting and the surrounding communities.
Whether your situation is planned or unexpected, Caring Transitions' services are perfect for seniors moving in with family or into a safer living situation, busy families, and people clearing out the home of a loved one who has passed. All of Caring Transitions' services are customizable, so clients only pay for the services they need – whether that means managing the entire move and estate-clearing or just getting someone resettled into their new place.
"We both have friends and family who have dealt with the stresses of difficult transitions, whether it's because of a death or a forced move. Our hope is to aid families in our community deal with those challenges," Frulio said. "By working with Caring Transitions, families can spend time taking care of each other without the added stress of the relocation or clearing out the home."
The Ely and Frulio families both have children living with autism and met through their children. Ely is a veteran of the United States Army and he served pre- and post-9/11. Frulio is a teacher at Central Regional High School in Berkeley Township. The two are both involved in the community as recreational sports coaches and supporters of Autism Awareness programs such as Autism Speaks and Parents of Autistic Children. Frulio runs an Autism Awareness Club at the school where he works and he organizes several fundraisers each year.
Opening Caring Transitions of Ocean County started with Ely, who had been searching for the right business for his family for years. He grew up in a family business and went to school for business and business administration, so he was ready for a new opportunity. When the idea to open Caring Transitions came up while the families were hanging out, it all came together.
"Using a franchise system made the most sense to me and, when I came across Caring Transitions in my research, it felt like a great opportunity. We are excited about having the opportunity to positively impact the families in our community by providing a much-needed service," Ely said.
"When John told us about Caring Transitions, it definitely appealed to our family. Our community has a high percentage of seniors and we loved the idea of helping that segment of the population and their families," Frulio added.
Ely and Frulio are Certified Relocation and Transition Specialists, a designation bestowed by an independent organization that evaluates providers of senior relocation services. Caring Transitions of Ocean County is bonded and insured and all employees are background-checked.
"We want people to know that we are here to help. You don't have to face these challenging and stressful situations alone. We've been through similar situations and we understand what you're going through," Ely said.
When they're not running the business, Ely enjoys spending time with his wife Tracy and their three children. Frulio can be found with his wife, Jo-Dee, and their three children.
For additional information about Caring Transitions and to learn how the company can help you and your family, call (732)606-4069, email JEly(at)CaringTransitions(dot)net or JFrulio(at)CaringTransitions(dot)net, or visit http://www.CaringTransitionsOCNJ.com.
About Caring Transitions
Caring Transitions, founded in 2006, is the first national franchising concept specializing in senior relocation and transition services. With more than 150 locations throughout the United States all owned and operated by Certified Relocation and Transition Specialists, Caring Transitions provides clients with supportive moves, auctions, rightsizing and transitions. This includes expert advice plus a well-executed transition plan beginning with the initial sorting of personal belongings through packing, shipping and selling of items to the final clearing and cleaning of the property. For more information, visit http://www.caringtransitions.com or visit us on Facebook or Twitter.