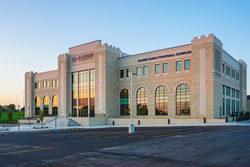 "The processes, tools and technology that Mortenson | GE Johnson leveraged to make this project successful were world-class. But perhaps more importantly were the human elements that were delivered daily..."
Minneapolis, Minn. (PRWEB) August 14, 2015
Mortenson Construction, a leading builder of sports facilities in the U.S., and joint-venture partner GE Johnson Construction, a full-service construction company headquartered in Colorado Springs, Colo., completes Phase 3 of the Bill Snyder Stadium Master Plan on the Kansas State University campus in Manhattan, Kan., ahead of schedule and under budget. This important milestone was reached a mere seven months after the project began, and a full month before the Wildcats take on the University of South Dakota Coyotes Friday, Sept. 5, 2015 in the first game of the season.
"Our ability to finish early and under budget was predicated on a "project first" mentality," said Adam Hardy, Senior Project Manager, Mortenson | GE Johnson Construction. "Nearly 1700 craft workers worked through freezing temperatures, torrential down pours, and 60 hour work weeks to make sure the K-State Family would return to a new-and-improved stadium."
The structure that housed Wildcat football operations since 1972 was demolished in three weeks to make way for the new $65 million Vanier Football Complex, a facility that's twice the size of it's predecessor, with a new locker room, weight room, video room, and a new academic center for student-athletes. The fan experience is enhanced with additional seating, a new party deck, videoboard, and a wider concourse on the north side of the stadium.
"This project was a perfect example of planning the work and working the plan," said Justin Horsch, Senior Superintendent, Mortenson | GE Johnson Construction. "We supported one another and kept the best interest of the Project at the forefront of every decision and that's why we've been successful."
Other factors contributing to the success of the project include:

Integrated project delivery: The entire project team (K-State Athletics, Mortenson | GE Johnson, Populous, and the design consultants) worked together from day one focusing on common goals, full cost transparency to project stakeholders, and target value design.
Advanced Use of VDC: The team leveraged advanced VDC technologies throughout the project to enhance planning, decision-making, collaboration, coordination, and prefabrication.
o 4D models (created by linking the 3D computer models to time) were utilized during the best value trade partner selection process to ensure every contractor visually understood their scope(s) of work thereby improving pricing and planning.
o Virtual reality technology was used to verify the layout and aesthetics of the final product.

Implementation of lean techniques: Lean principles such as daily POD (Plan of the Day) Meetings, Pull-Planning, Last Planner, and Just in Time were utilized to increase productivity and speed of delivery.
Use of prefabrication and off site assembly: The team utilized precast foundation walls in lieu of traditional cast-in-place; exterior walls were fully constructed on the ground in large sections and flown into place in lieu of traditional stick framing; and all ductwork, conduit, and piping was fabricated off site. Even the lockers were built offsite and assembled in the field.
"The processes, tools and technology that Mortenson | GE Johnson leveraged to make this project successful were world-class," said Clint Dowdle, Chief of Staff and Associate Athletic Director for Administration, K-State Athletics. "But perhaps more importantly were the human elements that were delivered daily throughout the entire process as Mortenson | GE Johnson created a positive atmosphere, were exceptional listeners and communicators, showcased a deep understanding of our vision, and operated like an extension of our Athletic Department."
In addition to Phase 3, the Mortenson | GE Johnson team will begin work on Phase 3B in January 2016 which will connect the 360 degree concourse and lower seating bowl.
The Mortenson | GE Johnson team completed Phase 2 of the Bill Snyder Family Stadium Master Plan on time and on budget on August 21, 2013.
Project Statistics

132,000 square feet of new construction
9,114 cubic yards of concrete poured
250 tons of rebar
1,200 tons of structural steel
250,000+ craft worker hours worked
1 new party deck
New 40' x 70' HD videoboard
Entire project funded by donors, premium seat gifts, and athletics revenue; NO State or University dollars.
Demolition of the existing facility took approximately three weeks
234 days to complete the new Vanier Football Complex
0 disruptions/cancellations of events on account of construction
1 Delighted customer!
Other team members include: Design team: Populous; Henderson Engineers; Walter P. Moore; and Olsson Associates; Trade Partners: Alpha Video; American Fire Sprinkler; ACME Flooring; BC Hardscapes; Bayer Construction; Beran Concrete, Inc.; CBS Manhattan; Carl Harris Co.; DH Pace; Diamond Roofing; FMSG; Fox Ceramic Tile; Gallegos Masonry, Inc.; Gray & Company; Hanson Sports, Inc.; ISS, Inc; InstallTEC, Inc.; Interior Surface Enterprises; Kolde Construction, Inc; LPR Construction Company; Longfellow Foundations; Manko Windows; Mays-Maune-McWard, Inc.; Mcpherson Wrecking
Mid-America Sports; Mid-State School Equipment Co.; Midwest Custom Pools; Midwest Drywall Co., Inc; Missouri Builders, Inc.; Otis Elevator Company; Overhead Door Company; Penny's Concrete, Inc.; Prestressed Concrete Inc.; Restoration & Waterproofing Contractors, Inc.; SC Railing Company; Schilling Construction; Spec Athletic; Torgeson Electric; Tri-City Fence Co., Inc.; US Engineering; and Western Millwork, Inc.
About Mortenson Construction
Founded in 1954, Mortenson Construction is a U.S.-based, family-owned construction company. As one of the nation's top builders, Mortenson provides a complete range of services, including planning, program management, preconstruction, general contracting, construction management, design-build, and turn-key development.
Engineering News-Record currently ranks Mortenson the second largest sports builder in the U.S with notable facilities under construction including SunTrust Park, (Home of the MLB Atlanta Braves) and U.S. Bank Stadium (Home of the NFL Minnesota Vikings). Additional Mortenson-built sports facilities include Target Field, Minneapolis; Xcel Energy Center, St. Paul; Target Center, Minneapolis; TCF Bank Stadium, Minneapolis; KFC Yum! Center, Louisville; Kinnick Stadium, Iowa City; FedExForum, Memphis; Coors Field, Denver; Pepsi Center, Denver; Sprint Center, Kansas City; ShoWare Center, Kent, Wash.; Edward Jones Dome, St. Louis; Camelback Ranch Spring Training Facility, Glendale, Ariz.; Amsoil Arena, Duluth; and Salt River Fields at Talking Stick, Scottsdale, Ariz.
Mortenson has offices in Chicago, Denver, Milwaukee, Minneapolis, Phoenix, Portland, San Antonio and Seattle with operations in Canada. For more information, visit mortenson.com.
About GE Johnson Construction
GE Johnson was founded in 1967 with a vision of building client relationships through innovative project services and by delivering on our commitments. Today, GE Johnson is an employee-owned corporation with a resume of projects ranging from $10,000 to over $240 million.
GE Johnson is currently ranked within the Top 400 Contractors List by Engineering News-Record and as a long time supporter of Kansas State University, has provided preconstruction and construction management services on the K-State Alumni Center, KSU Foundation Headquarters, the original Dev Nelson Press Box, and the Indoor Football Practice Facility.
The company is headquartered in Colorado Springs, and maintains fully staffed offices in Denver and in Jackson, Wyoming. For more information, visit gejohnson.com.
# # #