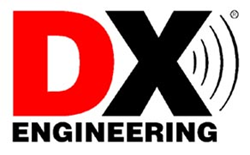 Tallmadge, OH (PRWEB) August 13, 2015
With a wide range of options, Amateur Radio enthusiasts can use American Tower Company components to build the correct tower for their antenna and site requirements. American Tower makes each section, base, bracket and accessory to exacting tolerances, which ensures a precise, stable installation.
At the heart of American Tower's product mix is its acclaimed Amerite Tower Series. The economical and versatile Amerite 25 Series tower system is a popular choice for many Amateur Radio applications. Depending on the antenna wind load, the 25 Series can be used in self-supporting, guyed and bracketed installations. Each tower section is hot-dip galvanized for corrosion resistance and double-bolted to create an extra-secure junction. The sections are made with steel tubing carrying a 50,000 PSI yield strength to meet ASTM 123 standards. The Amerite 25 Series tower sections have a 12.5' face, with 1.25' OD tubing legs.
DX Engineering carries American Tower's 25, 45 and 55 Series Tower Systems. Each series contains its own comprehensive line of tower sections and accessories. DX Engineering also offers pre-packaged tower kits that eliminate a lot of the component-matching questions.
American Tower Company Amerite tower products are fully compatible with their respective ROHN counterparts, which means if the need arises, Amateur Radio operators have a broader pool of installation and service parts in the future.
Selecting the right tower is critical. Call DX Engineering's Tech Support Line (800-777-0703) to ensure Amateur Radio operators choose the right one. Operators can also use DX Engineering's straightforward shipping process to get a tower shipped to their site with no headaches or hidden costs.
DX Engineering Tech Support Phone Hours
8:30 am to 7 pm ET
1230-2300 UTC
DX Engineering
http://www.DXEngineering.com
1-800-777-0703