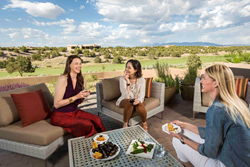 This is a great time for those considering land as an investment or building a home to make a decision. --Associate Broker Jerry Maher
Santa Fe, New Mexico (PRWEB) August 12, 2015
Las Campanas Realty announces focus on selling land at a great value; buyers and homebuilders will benefit with new, robust incentives, memberships at the Club at Las Campanas, hotel credits and developer financing. Complementing this news, the Club at Las Campanas announced it has a new GM/COO, Tony Dawson, who took the helm last month, while the Club's Director of Golf, Jason Epstein, has received "The 2015 National Private Club Merchandiser of the Year Award" from the PGA.
"While we have seen a steady market recovery in the past two years, we are still selling beautiful lots at an incredible value," said Jerry Maher, associate broker at Las Campanas Realty. "This is a great time for those considering land as an investment or building a home to make a decision."
Comparatively to other high-end communities in the Southwest, the land in Las Campanas is without doubt one of the best values," said Rob Wood, owner at Woods Design Builders. In addition, buyers get an opportunity to be a part of a special community. Las Campanas boasts world-class amenities that are second to none in New Mexico. As a member of the Club at Las Campanas since its inception and the owner of a company that has built more than fifty custom homes in the area, I feel very honored and blessed to be a part of a place that truly represents the very best of Santa Fe."
Dawson joined the Club's leadership team in May, coming from his position as the CEO of the Santa Lucia Preserve, a 20,000-acre property with golf and equestrian facilities in Carmel Valley, California. Dawson includes a Vice President and Managing Director position at a number of prominent communities and clubs in his resume, including Cordillera in Vail, Colorado, Woodlands in Woodlands, Texas, Carmel Valley Ranch in Carmel, Calif. and the Boulders in Carefree, Arizona.
"In my history of working with some of the finest communities in the country with the ultimate in quality-of-life, Santa Fe and Las Campanas rank among the top," said Dawson. "The geographic beauty, property values and our incredible amenities in addition to the City's Different's varied culture, art, food and wine make it one of the country's best places to live. It's an honor to be part of the Las Campanas team."
Epstein's national award is the highest honor for active Golf Professionals and is designed to recognize PGA professionals who have excelled as business leaders and merchandisers in the promotion of golf. Over the past three years Jason has won the Southwest Section award from the PGA. Finalists for this award submit in depth portfolios, which are evaluated by a panel of industry experts. Jason joins a long list of elite professionals who come from the nation's finest private clubs in winning this award. There are 12 professionals in each awards class, which also include a Teacher of the Year, a Player of the Year and a Professional of the Year.
To make an appointment with either Las Campanas Realty, please call 505 986-2000.
###
About Las Campanas Realty: Located on Camino la Tierra at the entrance to Las Campanas, Las Campanas Realty and its experienced team is dedicated to helping buyers find the right home or homesite in the Las Campanas development. The full-service brokerage's state-of-the-art sales office, designed to welcome visitors and offer expertise on all things Las Campanas, is open 7 days a week, providing information and material essential to exploring Las Campanas. The office includes a large, touch-screen topographical table and a comprehensive printed map of the development, in order to show off every single lot by gated neighborhood and number.
About the Club at Las Campanas: Located within the boundaries of the Las Campanas real estate development is The Club at Las Campanas, a separate entity, owned and operated by its members. Although many owners of property at Las Campanas are among the Club's members, membership in The Club at Las Campanas is separate from real estate ownership (in fact one may be a member without owning real estate) and, since it is a private club, membership is by invitation only. The Club includes two Jack Nicklaus Signature golf courses, the Las Campanas Equestrian Center, Spa & Tennis Center, a Log Cabin dining venue, and the Las Campanas Hacienda Clubhouse.
For media inquiries, please contact:
Jennifer Hobson-Hinsley
(505) 603-8643
Jennifer(at)jlhmedia(dot)com