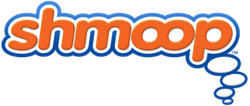 Mountain View, California (PRWEB) August 13, 2015
Whether they're in the form of streaming video, trashy magazines, or charitable giving, subscriptions are all the rage. So why not get education via subscription, too? Shmoop (http://www.shmoop.com), a digital publisher known for its award-winning Test Prep and certified Online Courses, has just released an all-you-can-eat subscription plan. Shmoopscribers gain unlimited access to literally everything on the site...in addition to the fancy name.
Students will be able to enjoy over $10,000 worth of premium products—from the Credit Recovery-enabled 6th Grade ELA Course to ACT® Test Prep—for just $24.68 month. And after enjoying a free trial, their parents will be thrilled to foot the bill. Teachers get access to all that and several bags of chips: literature, math, history, civics, economics, and digital literacy teaching guides; scripted lesson plans for teaching test prep; and in-depth teacher notes and answer keys for Shmoop's courses. The icing on the cake? With Shmoop's interactive online classrooms, teachers can engage with students, track their progress, and assign specific content.
"Our online content and product library is constantly growing," says Ellen Siminoff, president and CEO of Shmoop. "We add new material almost every day, so it only makes sense to allow students and educators access to everything in one bundle."
Shmoop will continue to offer hundreds of thousands of pages of free content, but now students and teachers can have the whole Shmoop enchilada for about the cost of two movie tickets. Their parents will have some change left over to buy the popcorn, all while being confident that their kids are heading back to school better prepared than ever.
About Shmoop
Shmoop offers hundreds of thousands of pages of original content. Their Online Courses, Test Prep, Teaching Guides, Learning Guides, and interactive Study Tools are written by teachers and experts and balance a teen-friendly, approachable style with academically rigorous concepts. Shmoop sees 11 million unique visitors a month across desktop and mobile. The company has won numerous awards from EdTech Digest, Tech & Learning, and the Association of Educational Publishers. Launched in 2008, Shmoop makes the magic happen from a labradoodle-patrolled office in Mountain View, California.
ACT is a federally registered trademark of ACT, Inc. Shmoop University is not affiliated with or endorsed by ACT, Inc.