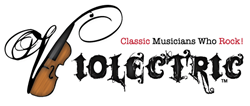 Orlando, FL (PRWEB) August 12, 2015
Acclaimed Central Florida-based strings group Violectric, led by founder and talented "Vinylinist" Michelle Jones, have joined forces with award-winning producer from The Blair Witch Project Robin Cowie and Busch Gardens to compose and record the original score for Busch Garden's annual Halloween event Howl-O-Scream this year, Violectric announces today. Group members Michelle Jones (composer, orchestrator, vocals, violin, viola, piano, synthesizer and percussion), Lexy Parsons (violin), Elizabeth Chaconas (viola), Yamilet Trujillo (cello), Paul Cuevas (bass, synthesizer, percussion and assistant composition), Danny Raymond (percussion), Carol Hensal (piano and synthesizer) and Jerry Jones (audio engineer, mixing and mastering) came together with Cowie at Cosplay Records in Windermere, FL to bring this year's Howl-O-Scream theme "Unearthed" to life.
"It's been an incredible honor to have been selected to work with amazing creator and producer Robin Cowie," says Jones. "When he asked me to create something new and something original and explained the details of the project, I was beyond ecstatic. We fed off of each other's energies and excitement as we both have a passion for film and the macabre. Everyone involved in this project is truly so proud of the end result and we cannot wait to get the music out there."
Jones composed the original musical selections, including one known as "Scarlett's Theme," for a series of television commercials, four short films and to be played inside the theme parks during Howl-O-Scream 2015 at Busch Gardens Tampa, Busch Gardens Williamsburg and Sea World San Antonio. Visitors and fans of Howl-O-Scream won't just be listening to the mystifying melodies, but also the vocal talents of Jones. Although not originally planned for Scarlett's theme, after hearing Jones hum the theme while working on the final mixing and editing for the project, Cowie insisted that they record her vocals. The three-part harmony was uniquely recorded to create a haunting layered effect and is used in the final full-length song.
Dig deeper into "Scarlett's Theme" composed by Jones and recorded by Violectric at Howl-O-Scream 2015. The event runs Thursday through Saturday October 1-31 and select nights October 18 and October 25. Operating hours are 7:30pm to 1am. For more information, visit http://www.HowlOScream.com. For more details about the composition and recording process, visit http://www.vinylinist.com.
About Violectric:
Formed in 2008, Violectric is a non-traditional string quintet that performs classic and modern rock music on acoustic-electric instruments. The accomplished members of Violectric have been performing in various groups, orchestras and together for over 20 years across the globe. Led by esteemed musician Michelle Jones, Violectric's custom arrangements of classic and modern rock tunes like "Billie Jean," "Go Your Own Way," and "Moves Like Jagger" cannot be heard anywhere else. For more information on Violectric, visit http://www.violectric.net, and for more information on sister group Fretless Rock by Strings Etc., visit http://www.fretlessrock.com.
Media Contact: Ilene Lieber, 321-277-7812, ilene(at)passionprconsulting(dot)com