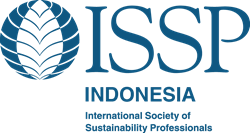 Sustainability professionals from countries such as Indonesia, Australia and the United States are registered to attend the training.
Hartford, CT (PRWEB) August 13, 2015
Unilever Indonesia and the BNI Bank of Indonesia are sponsoring a week-long face-to-face sustainability training session being offered August 18-22 in Jakarta, Indonesia by the International Society of Sustainability Professionals (ISSP). The training includes five of the nine courses required for the ISSP Certificate Training Program, which blends sustainability concepts and practices with organizational change theory to provide participants with the leadership skills and knowledge to lead a sustainability program.
"We're honored to have the support of two such leading companies as we bring sustainability training to Indonesia," commented Maureen Hart, Executive Director of ISSP. "As the world's leading association for sustainability professionals, we welcome the opportunity to partner with organizations such as these to help accelerate the adoption of sustainability in the Asia-Pacific region.
Sustainability professionals from countries such as Indonesia, Australia and the United States are registered to attend the training, which will be taught by members of the ISSP Leadership team, including ISSP Past President and EY Director of Climate Change and Sustainability Services Julian Crawford of Sydney, Australia, and ISSP Co-Founders Marsha Willard and Dorothy Atwood of Portland, Oregon, USA. To learn more about the Jakarta training sessions and to register, visit bit.ly/1JEgi7p.
"Unilever Indonesia supports this training because we understand that we have to continuously build knowledge and competence in sustainability for our people as a key element in ensuring that the Unilever Sustainability Living Plan (USLP) framework can be well implemented," explained Sinta Kaniawati, General Manager of the Unilever Indonesia Foundation.
USLP is Unilever's global initiative to address the challenges of poverty, health, nutrition, resource sustainability, waste management, and climate change. Among the many activities inspired by the Plan are hygiene campaigns to improve people's health and well-being; reducing the environmental footprint of Unilever products and operations; and improving the livelihood of millions of people throughout the Unilever value chain.
"Since sustainability has become part of BNI's culture and is in line with our mission, we need to continuously improve our knowledge and skills," said Nancy Martasuta, General Manager Corporate Community Responsibility of BNI. "Therefore, we support the ISSP training session in Jakarta to help us track sustainability for the moment and into the future."
Achieving balance in the 3Ps (profit, people, planet) is an essential element for the financial and banking sector, including BNI. BNI demonstrates this, for example, by entering into financing renewable energy, sustainable agribusiness, infrastructure projects, efficient and effective banking services and continuously improving the performance of its new unit, Corporate Community Responsibility (CCR), which implements BNI's commitment to sustainability programs.
About ISSP
The International Society of Sustainability Professionals (ISSP) is the world's leading professional association for sustainability professionals. ISSP is a member-driven association committed to moving the profession of sustainability forward by leading the design and delivery of sustainability professional certification, and by building strong networks and communities of practice. Webinars, online courses, a sustainability educational certificate, sustainability professional's body of knowledge, special reports, resource directories and salary surveys are just a sampling of the rich content offered to members. Formed in 2007, ISSP has nearly a thousand members from every region of the world.