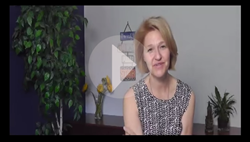 Viewers of the webinar learned that letting a baby cry to sleep reverses the process of sleep and actually works against sleep.
Denver, CO (PRWEB) August 14, 2015
On July 17, 2015 STAR Center and the earlyBLOOMERS program held a global webinar on how to get your fussy infant to sleep. LeAnn Hoye, RN, BSN, MSPT, Baby Specialist and Cranial Sacral Therapist at STAR Center in Denver, explained in the Infant Sleep Webinar, that sleep is attained through nurturing baby's sense of security, safety and parent connection. When an infant is not sleeping parents may feel like detectives scouring the Internet and parenting books for solutions on how to get baby to sleep with ease. It was pointed out during the event that Mom and Dad are driven to create a sleep formula in order to preserve their own sanity, but often if the infant attains sleep it's only a temporary fix. Unfortunately, many infant sleep tactics do not address this and encourage strategies including letting the baby cry it out. LeAnn Hoye describes her own experience as a parent, "We had read all the books and done all the right things as parents. It was time to let our daughter cry it out as we heard it had worked for other parents. Our daughter cried for several hours each night for about two weeks and eventually she did sleep, but if there was any sort of change in environment or family she stopped. Sleep didn't hold for her and looking back I realize crying it out backfired. This is when I started to look at sleep from a different perspective."
Viewers of the webinar learned that letting a baby cry to sleep reverses the process of sleep and actually works against sleep. Regardless of whether it's a baby or an adult trying to achieve sleep, falling asleep is about feeling the body relax and letting go of thoughts. When a person feels safe and secure, it allows for physical relaxation, a rested mind and easeful sleep. LeAnn speaks about how infant play and responsive parenting will solve sleep challenges, as baby feels more safe and secure. Watch the July 17, 2015 Baby Sleep Webinar online to get more insight into helping a baby achieve consistent sleep.
About STAR Center: STAR Center, a Colorado 501(c)(3), is the premier treatment center for children and families living with Sensory Processing Disorder, feeding disorders, and other sensory conditions associated with ADHD, autism, and other developmental disorders. STAR Center offers intensive ³burst² treatment that research shows is effective in treating sensory issues. Parents are involved throughout the process so families can learn to create sensory lifestyles and continue to see progress after the formal treatment program ends. Dr. Lucy Jane Miller, founder of STAR Center and Sensory Processing Disorder Foundation, is widely recognized as the leader in Sensory Processing Disorder (SPD) research worldwide. For more information about the Greenwood Village, Colorado clinic, visit http://www.SPDStar.org.