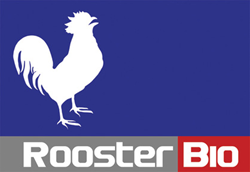 Frederick, Maryland (PRWEB) August 13, 2015
RoosterBio Inc. today announces the commercial launch of RoosterReplenish-MSC, a bioreactor feed media. This innovative media configuration enables the Regenerative Medicine industry to implement scale-up bioprocesses from the initiation of product development activities, facilitating clinical translation. RoosterBio's cell and media systems allow tissue engineers, biofabricators, 3D bioprinters and cell therapy developers to quickly scale up using simplified, standardized and cost-effective methods.
RoosterReplenish-MSC replaces nutrients and growth factors, eliminating the need for a media exchange. This results in saving significant time, resources and expense during stem cell bioprocess scale-up and optimization, while mitigating risk of contamination. Prior to this technology, partial or full media exchanges, which are time-consuming and labor-intensive processes, were necessary for bioreactor-based cell culture. This traditional media exchange process is complex and costly for commercial-scale stem cell manufacturing.
RoosterBio continues to broaden its portfolio of product formats, providing solutions for an extensive range of Regenerative Medicine therapeutic categories. The evolving product portfolio enables researchers and product developers to perform small scale screening studies, large scale development studies, and now, scale-up manufacturing bioprocess implementation. Along with this, the Company offers various product configurations including 1 to 50 million cell vials, high performance media systems, as well as pre-assembled working cell banks and kits.
RoosterBio's mission is to accelerate the development and commercialization of Regenerative Medicine products, by providing standardized stem cell product platforms that enable rapid translation of discoveries into product development. For more information, please email Priya Baraniak at priya@roosterbio.com or phone 1-412-606-1160.
About RoosterBio
RoosterBio is a privately held biofabrication tools company focused on accelerating the development of a sustainable regenerative medicine industry, one customer at a time. RoosterBio's products are high volume, affordable, and well-characterized adult human mesenchymal stem/stromal cells (hMSCs) paired with highly engineered media systems. RoosterBio has simplified and standardized how stem cells are purchased, expanded, and used in development, leading to marked time and costs savings for customers. RoosterBio's innovative products are ushering in a new era of productivity and standardization into the field, where researchers spend newly found time and money performing more high-value experiments, accelerating the road to discovery in Regenerative Medicine. For more information on RoosterBio and adult stem cells, you can visit http://www.roosterbio.com, follow on twitter (@RoosterBio), or read our blog "Democratizing Cell Technologies" (http://www.roosterbio.blogspot.com).