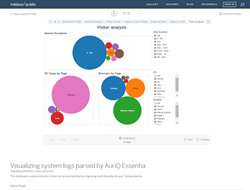 Solutions like Essentia truly enhance the data intelligence offerings on Azure Marketplace - Avinash Belur, Sr. Product Marketing Manager, Microsoft Azure
Pasadena, CA (PRWEB) August 19, 2015
AuriQ Systems, Inc. announces the latest release of Essentia Data Lake Viewer on Microsoft Azure Marketplace, now with enhanced support for the popular business intelligence (BI) and visualization tool, Tableau. This enhancement allows Essentia to help bridge the gap between unprocessed raw data and actionable data visualization with very little effort from the user required.
"Essentia DLV on Azure makes perfect sense. The affordability of Blob storage and the scalability of Microsoft Azure Virtual Machines makes it the most agile and cost effective way for business users to explore raw data from logs and flat files residing in cloud data lakes without the hassle of having to preprocess them in order to prepare them for loading into Tableau." – Ko Ikudome, CEO AuriQ Systems.
Users simply create data categories which group common files together, and then run SQL like queries to extract information. The results are displayed in the UI, or can be sent to Tableau via an OData interface. From Tableau, users select the OData data source option and paste the URL from Essentia into the server field. As simple as that, Tableau will connect and pull data from Essentia, allowing you to quickly create visualizations from your raw data without having to process and load into a database beforehand.
"Solutions like Essentia truly enhance the data intelligence offerings on Azure Marketplace and enable business users, data scientists, and analysts to quickly get tremendous value from raw data already stored in Azure Blob storage" said Avinash Belur, Sr. Product Marketing Manager, Microsoft Azure.
AuriQ is an Azure ISV. Essentia 3.0.8 is available now in the Microsoft Azure Marketplace as a Virtual Machine Image. Getting started is free and easy, with trial versions available.
About AuriQ Systems, Inc.
Since its inception in 1996, AuriQ's goal is to help customers gain visibility into the key performance indicators critical to the success of their business. AuriQ's products help enterprises, datacenters, and e-businesses succeed by increasing revenue and reducing operation costs. More than 400 global enterprises, including many Fortune 500, have chosen AuriQ solutions to power their business.
###
The names of actual companies and products mentioned herein may be the trademarks of their respective owners.