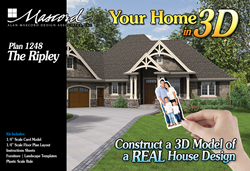 With Your Home in 3D, we want to encourage kids to be creative and enthusiastic about home design
Portland, OR (PRWEB) August 14, 2015
Today, Alan Mascord Design Associates Inc announce the availability of a new range of 'Your Home in 3D' architectural model kits in the Toys and Games section of Amazon.com. Adults and kids alike can build a fully detailed quarter inch scale model of a real home design. Users choose a favorite design and create a realistic architectural model they can be proud of. They can paint it or decorate it, and the real plans are available for the designs to be actually constructed.
For more than 30 years, Mascord has designed thousands of homes that have been constructed more than 75,000 times across the United States and around the world. His beloved designs are renowned for their livability, pleasing aesthetic, and architectural creativity. "People love the design philosophies we have" says Alan Mascord, President. "With Your Home in 3D, we want to encourage kids to be creative and enthusiastic about home design, and instill those same philosophies in them".
Each kit comes with quarter inch scale model parts to cut out and assemble, a printed floor plan, furniture template, landscaping template, and detailed assembly instructions. A scale rule is also included to help young crafters lay out furniture, and the detailed exterior is left white so they can color or paint it in their favorite scheme.
'Your Home in 3D' kits are recommended for kids 8+ and adults interested in paper crafts, architecture, and art and design. There are three kits available from today (8/14/15) from Amazon.com, with more to follow this fall and in time for Christmas.
The three kits are:
Plan 1248 - The Ripley
Plan 22122 - The Greenspire
Plan 21145 - The Morris
About Alan Mascord Design Associates Inc
Since 1983, Alan Mascord Design Associates, Inc. has been designing custom homes, stock home plans, and providing marketing and technical support to homebuilders nationwide. By balancing architectural perfection with the need to be practical, award-winning home designer Alan Mascord has assembled a creative team with the talent to identify trends in American home styles and the skills to translate them into designs that are beautiful, efficient and easy to build. Mascord's designs have gained national attention gracing the covers of magazines such as Builder, Better Homes & Gardens® and House Beautiful.
###