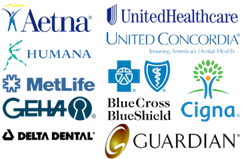 Las Vegas, NV (PRWEB) August 12, 2015
Smiles Today Dental is proud to announce that its office is now accepting all major insurance plans for dental purposes. A state-of-the-art dental facility situated in Las Vegas, Smiles Today Dental is open seven days a week, making it convenient for patients to schedule an appointment. Now that it is also accepting all major insurance plans, this facility is simplifying the process of choosing a dentist for most patients while allowing them to take advantage of the insurance benefits that they are entitled to receive.
"We know that regular dental exams and cleanings are important to prevent decay as well as to catch early signs of gum disease. If we can facilitate that process for our patients by accepting all types of major dental insurance, then we can promote better oral hygiene for a greater number of patients in Las Vegas and surrounding areas," stated one of the dentists currently employed by Smiles Today Dental. "We consider preventive care to be the single most important aspect of good dental hygiene."
Smiles Today Dental provides free round-trip transportation for patients living or working in the area so that they can get the dental examinations, cleanings, and restorative procedures they need even if they don't have their own car. This facility is devoted to the provision of quality care and welcomes the opportunity to serve new patients throughout the year. Dental services provided at this office include: exams, cleanings, dental fillings, x-rays, braces, teeth whitening, dental crowns, and extractions.
New patients are invited to call Smiles Today Dental at 702-655-6777 during normal business hours to speak with the office receptionist about any questions they might have or to schedule a dental appointment.
About Smiles Today Dental
A professional dentistry office located in Las Vegas, Nevada, Smiles Today Dental offers an all-inclusive array of dental procedures and treatments to area residents as well as individuals working in the area. This high-tech dental facility concentrates on meeting the needs of its patients. It provides an extensive array of quality services delivered by highly experienced and personable professionals in a comfortable office setting staffed by knowledgeable associates. The dental practice is conveniently open seven days a week and provides free round-trip transportation for patients in need of dental examinations, cleanings, braces, restorations, cosmetic procedures, and more.
Smiles Today Dental
Las Vegas Dentistry Professionals
1580 East Desert Inn Road
Las Vegas, NV 89169
702.655.6777
smilestodaydental.com
###