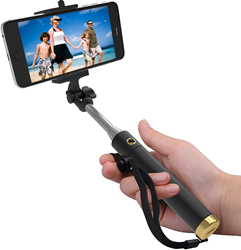 We also have announced an introductory price of just 19.99 dollars, which will allow users to save over 60 percent on this great new accessory
Brooklyn, NY (PRWEB) August 13, 2015
ZekPro today announced that their latest product, a brand new Bluetooth Selfie Stick, is now available on the world's leading retail marketplace.
http://www.amazon.com/Selfie-Stick-Monopod-Bluetooth-Wrist/dp/B00WFHNMXI
This announcement comes just days after the company announced they were in the final stages of producing this new accessory for mobile photography buffs and selfie aficionados. ZekPro's selfie stick is based on Bluetooth technology, and wirelessly connects to cameras, iPhones, iPods and android smartphones to make self-portrait photography even better.
In addition to offering a Bluetooth wireless connectivity, the company's new product is also compatible with a wide range of smartphones and devices. The company revealed, in an email sent out to press outlets just days before the launch, that this selfie pole would support all iPhone models, including earlier versions of the iPhone 4 and iPhone 4s.
More so, it's optimized to work seamlessly with Android smartphones, iPods, GoPro cameras and a vast number of other photography gadgets. This is great news for customers who've been searching for an all-in-one accessory that can easily and seamlessly work with all their devices.
The company advanced some of the key features in the product's unique selling point as a lightweight design, wireless connectivity, extensive compatibility and extended battery life. This seems to be a full benefit pack that will likely cause a stir in the market.
Currently, Amazon is the world's leading online seller of selfie sticks and other photography accessories. ZekPro has also strategically priced their product at $19.99, which the company says is a limited time launch price. Considered that most people evaluate the price and weigh it against the benefits while purchasing selfie poles, it'll be interesting to see how this pricing point rolls out in the market.
The company has also kick started a massive marketing drive for the new product on digital channels, including Google AdWords and Facebook Ads. This is in the hopes of creating fast
awareness, developing the brand name and selling over 2000 units within the first 72 hours.
Steve Harris, ZekPro's Marketing Co-Coordinator, said "We are delighted to announce the launch of our brand new Bluetooth selfie stick. Our design and implementation teams have been working on this product for the last couple of months. Our selfie pole is a brand new way to capture incredible snaps for self-portrait lovers and mobile photography enthusiasts. The Bluetooth implement integrates easily with a wide range of devices, including Android smartphones, iPhones, GoPro cameras and iPods.
We also have announced an introductory price of just 19.99 dollars, which will allow users to save over 60 percent on this great new accessory. As we kick start a digital marketing drive to popularize our brand and expose this great new product to as many people as possible, we hope to cause a market stir on our primary sales avenue, Amazon.com. Stay tuned as we have more coming soon."
Youtube Video
https://www.youtube.com/watch?v=57pQyG5EDPo
Amazon:
http://www.amazon.com/Selfie-Stick-Monopod-Bluetooth-Wrist/dp/B00WFHNMXI