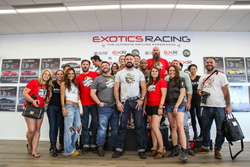 In keeping with Kiehl's Since 1851's spirit of adventure, we chose the best of the best with Exotics Racing for this one-of-a-kind experience
(PRWEB) August 13, 2015
Exotics Racing is honored to have welcomed the 2015 Kiehl's LifeRide for amfAR. The LifeRide takes activists, business executives, and celebrities across the country to raise money and awareness for AIDS research. This is the 6th LifeRide, and it shows no sign of slowing down. This year's 12-day LifeRide is led by the president of Kiehl's Since 1851, Chris Salgardo, who has been leading the LifeRide since its inception 6 years ago.
The LifeRiders swapped their motorcycles for Exotics' cars and had a blast. Actor Gilles Marini and Chris Salgardo drove the Ferrari 430. Chris mentioned that he owns a Ferrari 430 Spider but never gets the chance to push it on a track. Meanwhile, World Cup Rugby champion Ben Cohen drove the Porsche GT3 and was very impressed at how well the car handled. Other LifeRiders opted to take a drifting ride in Exotics Racing's Corvette Z06. They sat passenger to a professional drifter who took them sliding around the track at full speed.
"In keeping with Kiehl's Since 1851's spirit of adventure, we chose the best of the best with Exotics Racing for this one-of-a-kind experience. This has been incredible we are having such a great time. Also, I am a bit partial to the Ferrari because I have one. Since I live in New York you'll need to build a track out there so I can enjoy it at home. I could have done this all day," said Chris Salgardo, President of Kiehl's Since 1851.
Some of the celebrities participating in this year's LifeRide are, Kiehl's President Chris Salgardo and amfAR CEO Kevin Robert Frost. Celebrity LifeRiders include Jay Ellis, Gilles Marini, Vanessa Marcia, Conrad Leach, Chris Kael, Grant Reynolds, Kristy Swanson, Tricia Helfer, Timothy White, Craig Martin, Travis Shinn, Jeremy Danger, and World Cup Rugby champion Ben Cohen.
About Exotics Racing
Exotics Racing was founded by French stunt driver and racing champion Romain Thievin and former investment banker David Perisset. Exotics Racing is the original supercar driving experience in Las Vegas, and has the world's largest fleet of supercars available. Exotics Racing has been awarded Trip Advisor's "Certificate of Excellence," four years in a row Established in 2009 at Las Vegas Motor Speedway, Exotics Racing has hosted over 160,000 satisfied customers in Las Vegas and at their new location in Los Angeles. Guests from all over the world visit Exotics Racing to drive the most exciting supercars on purpose built racetracks. Details about the experiences can be found on exoticsracing.com or by calling (702) 405-7223.