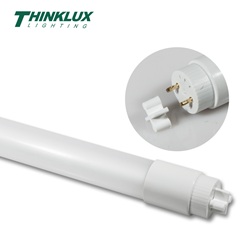 Golden, Colorado (PRWEB) August 13, 2015
EarthLED.com, the Web's leading LED only lighting retailer today announced the immediate availability of T8 and T12 retrofit fluorescent tube lights from Thinklux lighting. Since the introduction of Thinklux Lighting last year, it has quickly become the fastest growing LED brand in the USA.
"We are very excited to introduce a 4-foot LED replacement for fluorescent tube lights that everyone can afford" said Mark Costigliola, Managing Director and Co-Founder of EarthLED.com. "Thinklux has become a brand synonymous with value and performance and these LED replacements for common T8 and T12 fluorescent tubes are yet another example of this" continued Costigliola.
The 4 foot LED tube lights from Thinklux have an output of 1900 Lumens while only consuming 18W of energy, this 106 LPW (Lumens per Watt) performance has in part, allowed them to obtain DLC qualification. This qualification will allow Thinklux LED tube lights to be rebate ready in many states. The entire family is priced below $15, a class leading price point for the industry.
Lifespan is also superlative to other options on the market with an L70 rated lifetime of 50,000 hours. The ballast bypass design also reduces overall maintenance costs since ballasts no longer need to be used in the retrofitted fixtures.
Thinklux LED fluorescent replacement tubes come in two color temperatures: 4100K & 5000K, making them a great choice for both office and home use.
Unlike many options on the market, Thinklux has constructed their tubes of shatterproof polycarbonate materials, making these lights durable and easy to transport. The entire product line is backed by a 5 year limited warranty.
Customers can purchase Thinklux LED tube lights at EarthLED.com starting today, large volume customers can also fill out volume quote requests or contact EarthLED at 877.855.1625 for project pricing.
About EarthLED.com
Founded in 2007, EarthLED.com is the most visited LED only lighting retailer on the web. Headquartered in beautiful Golden, Colorado. EarthLED, provides lighting products to both consumers and commercial customers alike. EarthLED prides itself on offering the largest selection of LED lighting on the web at the best price. In 2012, EarthLED was named to Inc. Magazine's 500 fastest growing private companies in the USA list. Learn more about EarthLED at http://www.EarthLED.com