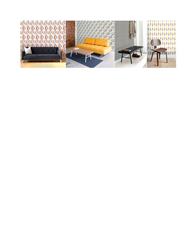 "I'm very excited to be showing my wallpaper collection from Tempaper at the New York show, NY NOW. I think my patterns will be a exciting new addition to the other great brands and designers that take part in this fun show," said Bobby Berk
New York, NY (PRWEB) August 13, 2015
Tempaper® has announced the licensing partnership with interior design powerhouse Bobby Berk that will be introduced at the NY NOW show from August 15-19. Bobby's line for Tempaper takes cues from contemporary printmaking and pop art, making for a vibrant, eye-catching collection. Tempaper by Bobby Berk is the perfect time and money saving solution for renters, homeowners, and anyone who is looking to upgrade their style without the hassle and cost of hiring an installer.
Within the new Tempaper by Bobby Berk collection you will find fabulous new patterns: Love, Bars, Retrogeo, Thermoscad. The new collection is available to view at Javits Center, Level Three, Booth 1629, featuring over 25 new Tempaper designs, texture prints, and new Elements line - a recycled, eco-friendly, self-adhesive wallpaper option.
"I'm very excited to be showing my wallpaper collection from Tempaper at the New York show, NY NOW. I think my patterns will be a exciting new addition to the other great brands and designers that take part in this fun show," said Bobby Berk, who bases his design business in Los Angeles and New York.
In part, Bobby Berk and Tempaper are the perfect pair for collaboration because of their shared commitment to innovative design. Bobby Berk admires the fact that Tempaper allows consumers to keep moving forward, giving people the freedom to transform their homes — whether they are simply refreshing a room or relocating to a new space entirely.
"We are thrilled to be collaborating with Bobby. His fresh, modern designs complement our alternative approach to decorating in a fun and lively way," said Jennifer Matthews, Co-Founder and Design Director of Tempaper.
Tempaper by Bobby Berk will retail for $125 per standard double roll (20.5" x 11 yards).
About Tempaper
Tempaper is a family-owned company started in NYC by set decorators. There was a clear need for Tempaper in the home decor market. Tempaper is the perfect solution for high-impact decorating without a long-term commitment. Unlike traditional wallpaper, Tempaper is self-adhesive allowing it to be applied and removed easier than traditional wallpaper. Tempaper has revolutionized the wall decor industry making wallpaper one of the most sought after decorating tools on the market. Now renters, sub-letters, homeowners and all small and large temporary and permanent decorating projects can utilize wallpaper. Tempaper® is made in the USA, environmentally safe and friendly, uses water-based adhesive and inks, a biodegradable back liner, and is lead-free, phthalate-free and VOC-free. One roll covers approximately a 7ft. x 8ft. surface. For more information, visit http://www.tempaperdesigns.com. Tempaper Product Lines: Tempaper, Tempaper Elements, Tempaper By You, Tempaper Tots, Custom
About Bobby Berk Home
Originally from Texas, Bobby moved to New York City in 2003 with $100 and a suitcase, and has been reinventing the interior design industry ever since. Bobby believes that designing a home should be easy and fun. That's why he has designed and curated some of the best selections of mid century modern and industrial modern furniture; his products make designing a home, office, restaurant or hotel quick and simple. He combines superior customer service with exceptional modern designs, bringing you the finest in-store and online experience. His products can be found in retailers across the globe through license partners such as Surya, Tempaper, and more. Bobby's corporate clients include Starwood Hotels, Burger King, Hyatt Hotels, Juan Valdez Cafes, Starbucks, James Hotels and more. For more information visit http://www.bobbyberkhome.com.