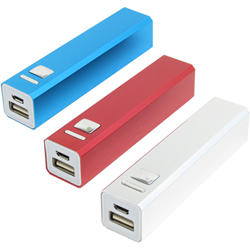 The Cobalt USB power bank line delivers a compact solution to power mobile devices for promotional and branding purposes
Riverwoods, Illinois (PRWEB) August 17, 2015
Bowtie Promotions' introduction of the USB power bank products starts with a highly compact and mobile lithium-ion Cobalt and Cobalt Plus power banks.
The Cobalt power bank line is a lightweight and mobile solution of power bank USB chargers. The standard Cobalt power bank fully charges smaller devices such as iPhone 5/6 batteries, whereas the Cobalt Plus model is able to fully charge larger devices such as iPhone 6 Plus. The Cobalt line of power banks may be branded with slik-screen printing or laser engraving. Once personalization is complete, Bowtie Promotions' 10-day fast-track branding service ships the finished product in 10 business days or less.
The USB power bank products are designed to be lightweight, durable, and deliver power to charge most mobile electronic devices. Measuring at about 3.5 inches, the Cobalt power banks come with a standard USB male to micro USB male connectors for Android/Microsoft type devices and a USB-Lighting adapter for Apple products. The 2200 mAh capacity of the Cobalt USB power bank is able to fully charge an iPhone 5/6 and devices with similar power requirements. The 3000 mAh capacity of the Cobalt Plus USB power bank is able to deliver more power and fully charge an iPhone 6 Plus and similar devices.
"The introduction of the USB power bank solutions is an initial step by Bowtie Promotions to diversify our product line into a constantly expanding marketplace of mobile electronics. The Cobalt USB power bank line delivers a compact solution to power mobile devices for promotional and branding purposes. It's an important first step and we look forward to expanding this product line." stated Dennis Lanski, President with Bowtie Promotions.
Visit http://www.BowtiePromotions.com to obtain more information. Telephone inquiries may be directed to Dennis Lanski at 877-853-1573
Bowtie Promotions is a registered trademark of Bowtie Promotions Incorporated. iPhone is a registered trademark of Apple Incorporated. Android is a trademark of Google Incorporated. Microsoft is a registered trademark of Microsoft Incorporated