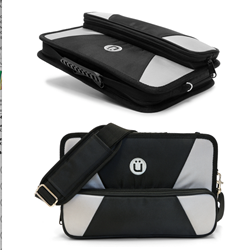 The case also has a handy built-in accessories pouch, carrying handle, and shoulder strap and an asset tag window for easy device identification
Chicago, IL (PRWEB) August 19, 2015
Sunrise Hitek is pleased to announce a new model of their rugged laptop case which is compatible with the new Dell Chromebook 11 with a 180-degree hinge, Latitude 13 Education Series (3340), and Inspirion 15. The rugged laptop is notable for its "always-in" design with proprietary Cooling Channel™ technology which allows the computer to be used without being removed from the case https://www.sunrisehitek.com/product/rugged-laptop-case. Possibly the most notable of these laptop computers is the new Dell Chromebook 11 with a 180-degree hinge. This laptop was built with schools in mind. It was military tested for durability and has rubberized trim for protecting the computer from drops. This case also boasts a scratch resistant touch screen and a sealed keyboard for spill protection. The Dell Chromebook 11 is also lightweight at less than three pounds.
The rugged laptop case is made from a durable ballistic nylon construction with thick padding. The case also has a handy built-in accessories pouch, carrying handle, and shoulder strap as well as an asset tag window for easy device identification.
In addition to the Dell Chromebook 11 with a 180-degree hinge, Latitude 13 Education Series (3340), and Inspirion 15, Sunrise also has models to accommodate HP Chromebook 11.6", 14", 15-3040NR, MacBook Air 11" and 13", MacBook Pro 13" and 15", Acer C720 and C740, Chromebook 11, Chromebook 13, Chromebook 15, Samsung Chromebook 2, ASUS Chromebook C200, C201, and C300, Lenovo ThinkPad X140E, N20, N21, ThinkPad T440s, E550, Toshiba CB35-B3330, CB30-B3122, CB35-B3340 Chromebook, and Tecra C50. The 11" case measures 13"x9"x3"; and weighs 1.6 lbs. The 13" case measures 14"x10"x3"; and weighs 1.8 lbs.
About Sunrise Hitek
Sunrise Hitek's üuber store, formerly known as iGear, is a leading maker of protective gear for Apple's iPad. The brand changed to üuber when the company starting developing cases for other devices, such as the MacBook, Chromebook, and Samsung devices. Sunrise Hitek Group, LLC, owner of the üuber brand, also operates Sunrise Digital, a leading digital printing company based in Chicago. As a G7 Qualified Master Printer, Sunrise is uniquely qualified among protective gear makers to offer a wide array of customization options, ensuring the most consistent and accurate color reproduction. Sunrise is an Inc. 5000 company established in 1988 and employs the most advanced equipment and technology, such as G7-certified HP Indigo and UV flatbed presses, and digital die-cutting, to create best-in-class products. A privately-owned enterprise, the company is based in Chicago and sells products worldwide.