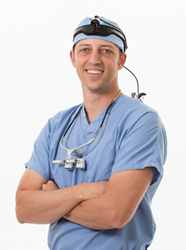 Fresno, CA (PRWEB) August 12, 2015
Patients with missing teeth looking for the latest in dental implants in Fresno, CA, can now seek treatment from Dr. Scott Jett. Dr. Jett is a leading provider of dental implants in the area and now utilizes guided surgery to ensure that each implant is properly placed in the mouth, for maximum effectiveness and a better chance at success.
The dental implants used in Fresno, CA, are usually made up of titanium or another material that integrates well with the bone to create a strong bond. They are aesthetically appealing because they are virtually indistinguishable from natural teeth, creating an inconspicuous appearance. Their expected longevity generally remains for decades, but with proper and optimal oral care and adequate brushing and flossing, they may last for a lifetime.
In the past, dentists have replaced missing teeth with implants without guides or computer technology. However, to achieve the best possible results, it is necessary for patients to seek out experts who have the qualified knowledge and resources to create a surgical guide for the procedure. This will ensure that the implants have the best possible chance for optimal longevity, increasing the safety of the procedure, as most guides have built in depth-limiters, completely eliminating lack of precision for the doctor. In addition to imaging, which can reveal nerve and blood vessel location, the surgery guide is an essential piece of equipment from which all doctors can benefit.
Those with missing teeth who want to learn more about dental implants in Fresno, CA, can learn more by visiting Dr. Jett's website. Alternatively, interested patients can contact the doctor's office to schedule an appointment.
About the Doctor
Dr. Scott Jett is a periodontist offering personalized dental care for patients in Fresno, CA. Dr. Jett has been setting the highest standards of excellence in periodontics, gum surgery and dental implants for nearly ten years. With a practice emphasis on dental implants and periodontal surgery, he continues to be a leader in the Fresno area. He earned his undergraduate degree at Auburn University and his dental degree at the Medical College of Georgia School of Dentistry before completing specialized post-graduate training in periodontics, as well as earning a Master of Science degree in bone physiology, from the Medical College of Georgia. In addition, Dr. Jett is a published author and an active member in many leading dental organizations, including the American Dental Association, American Academy of Periodontics, International Congress of Oral Implantologists, Fresno Madera Dental Society and the 3i Implant Innovations STP Study Club. To learn more about Dr. Jett and the services he provides, please visit his website or call (559) 339-0826.