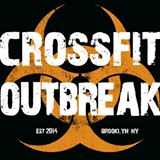 We pride ourselves in making CrossFit accessible to everyone and modifying the workouts to fit people's abilities. People love the look and feel of our gym and have said that we have built a 'high end' gym at affordable prices.
Brooklyn, NY (PRWEB) August 18, 2015
In early October, CrossFit Outbreak will open the doors to its second Brooklyn location at 208 Frost Street, allowing even more New Yorkers to try the increasingly-popular CrossFit fitness program.
Adam Sturm, Co-President, says CrossFit Outbreak has seen stellar growth since opening less than nine months ago. CrossFit Outbreak now boasts more than 200 members. As a result, the gym decided to expand to accommodate increased demand.
"We've had a big response from the community; CrossFit is becoming a very popular fitness solution," he says. "People are looking for different way to get fit outside of the standard gym routine or running and CrossFit affords them that solution."
Sturm says the Frost Street location is conveniently located near the Graham Ave. L train subway station. The new location will be larger than CrossFit Outbreak's first location, with 4,000 square feet of space. All CrossFit Outbreak members will be able to use both gym locations with one membership at no additional cost.
"We're proud to announce that there will be no upcharge to access both gyms," Sturm says. "We will be offering a discounted founders' rate for the first 50 new members when we open this location. This rate offers 3 days of classes per week at $199 per month, or unlimited classes for $209 a month. They'll be locked in at these prices; we won't raise prices on them."
Sturm says the gym plans to hold a grand opening party when the Frost Street location opens; the date and time for this event will be announced and promoted via social media. Already, CrossFit Outbreak's current members have expressed excitement to see the new location and to have two gyms that they can use.
"We are very excited to build on the success of our first location," Sturm says. "We will be the first gym in Brooklyn with two locations. We pride ourselves in making CrossFit accessible to everyone and modifying the workouts to fit people's abilities. People love the look and feel of our gym and have said that we have built a 'high end' gym at affordable prices."
About CrossFit Outbreak
CrossFit Outbreak is a new gym opening in Brooklyn, NY. Catering to CrossFit athletes and enthusiasts, this new CrossFit gym can help anyone train and develop a healthy physique, whether they're a marathon runner or a current couch potato. To learn more about CrossFit Outbreak, visit crossfitoutbreak.com