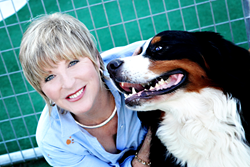 "Every social mammal chooses a leader of their group. In the United States, we do it every 4 years. Dogs at the park do it every 4 minutes. Other than timing, the process is the same."
Portland, OR (PRWEB) August 17, 2015
On Saturday, August 15th at the Crowne Plaza in Portland, Oregon, dog trainer, author and media consultant Camilla Gray-Nelson told attendees of the 2015 Women in Pet Industry Network Conference that the results of recent CNN/ORC and Boston Herald/FPU polls showing Donald Trump and Bernie Sanders leading other candidates within their respective parties were unsurprising.
The CNN/ORC poll conducted in Iowa among adults and likely caucus goers showed Trump solidly leading all other Republican candidates with 22%. The Boston Herald/FPU poll conducted in New Hampshire showed Bernie Sanders leading Hillary Clinton 44-37% among likely Democratic primary voters.
The gathering of influential women within the pet industry heard Gray-Nelson who is also known as the Dog Talk Diva, share both her experience in growing her business as well as her singular political outlook--appealing to voters at their animal instinct level will win the election.
Whether in sales or politics, Gray-Nelson believes actions and decision-making are highly influenced by innate animal instincts. "Humans are just animals that walk upright, wear clothes and have a slightly bigger brain." She went on to say "We react by our instinct before we ever engage in our intellect. We are animals first, humans, second."
While experienced political pundits have been scratching their heads to understand why party renegades such as Donald Trump and Bernie Sanders are resonating with the electorate, Gray-Nelson told attendees that animals are instinctively drawn to universal markers of animal strength and leadership--boldness, passion, decisive action, clear positions and unapologetic confidence. She explained the top dog of any pack must display all of these traits and conversely, that any sign of weakness, accommodation, capitulation, inconsistency or anything seen as appeasement behavior will disqualify any dog or candidate from top status. "Every social mammal chooses a leader of their group. In the United States, we do it every 4 years. Dogs at the park do it every 4 minutes. Other than timing, the process is the same" said Gray-Nelson.
This dog trainer come political advisor further added "no middle of the road, pandering or poll-sensitive candidate is likely to win this election. They will be rejected as weak by the voting animal who responds to strength, confidence and verve--issues be damned!"
Portland, pets, and politics--who knew? Move over Lewandowski, Weaver and Podesta. The Dog Talk Diva has come to town.
About Camilla Gray-Nelson:
Camilla Gray-Nelson known also as the Dog Talk Diva® has over 20 years of experience training dogs and their people. She owns and operates the Dairydell Doggie Dude Ranch and Training Center in Petaluma, California and is the author of the best-selling "Lipstick and The Leash: Dog Training a Woman's Way." When not training or writing about dogs, Camilla can be found with her husband Kurt and the numerous animals that reside on their Dairydell Ranch in the heart of beautiful Sonoma wine country. Dog Talk Diva is a subsidiary of Dairydell Inc. For more information visit: http://www.dogtalkdiva.com or http://www.dairydell.com
About Women in the Pet Industry Network (WIPIN):
Established in 2010, WIPIN is headquartered near Portland, Ore., and serves a worldwide membership base of women in the pet industry. WIPIN helps entrepreneurial women grow their pet-focused businesses through unique networking opportunities, valuable business growth meetings and online resources. With more than 450 members, WIPIN is the premier networking organization for women in the pet industry, offering its members the opportunity to connect, share and learn from likeminded professionals. For more information visit: http://www.womeninthepetindustry.com