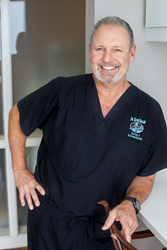 North Charleston, SC (PRWEB) August 12, 2015
Kevin Hogan, DDS, is pleased to announce the availability of a revolutionary laser surgery for those who are seeking a dentist in North Charleston, SC to provide gum disease treatment. This procedure, called LANAP®, does not require the incisions and sutures typical of oral surgery. Instead, Dr. Hogan uses a beam of light to eradicate bacteria and damaged tissue below the gum line. As a result, patients experience little bleeding and recovery time is minimal. Dr. Hogan is proud to now offer this minimally invasive procedure to residents of North Charleston.
Gum disease begins when bacteria mix with food acid in the mouth and form a sticky paste around the roots of teeth. Regular brushing, flossing and professional dental cleanings remove this substance, but when teeth are crowded, optimal oral hygiene can be difficult. Tobacco use, genetics and hormone fluctuations are also risk factors. If it is not removed, plaque hardens into tartar and irritates the soft tissues of the gums, as well as other supporting structures of the teeth, leading to inflammation and infection.
Another dentist in North Charleston may recommend scalpel surgery, which involves cutting the gums and pulling them back, allowing calculus to be scraped from the roots of the teeth and the infected area to be treated. Unfortunately, this traumatic procedure can further damage delicate tissue and prevent reattachment to its original position. The resulting gum recession creates a new risk factor for recurring gum disease.
Rather than cutting the gums, Dr. Hogan inserts the tip of the FDA-cleared PerioLase® MVP-7™ laser below the gum line, targeting bacteria without affecting healthy tissue. An ultrasonic tool removes the calculus and the laser is utilized a second time to cauterize the area, stimulating new tissue growth for a full recovery. Those in North Charleston who would like to learn more and schedule an appointment with the dentist can acquire more information on Dr. Hogan's website.
About the Doctor
Dr. Kevin Hogan is general dentist providing individualized care for patients in Mount Pleasant, SC. Dr. Hogan is a graduate of the Indiana University School of Dentistry and has completed hundreds of hours of continuing education courses to stay up to date with the latest dental technologies. In addition, he has also completed coursework with the Dental Organization for Conscious Sedation and has lectured at both the University of North Carolina and Emory University. Dr. Hogan is a member of the American Dental Association, International College of Cranio-Mandibular Orthopedics, Academy of Laser Dentistry, International Association of Physiologic Aesthetics, Institute for Advanced Laser Dentistry, among many other. He and his team are dedicated to providing exceptional oral care to patients through personalized treatment plans. To learn more about the services offered by Dr. Hogan, please visit his website at http://www.smilesbyhogan.com or call (843) 639-5044.