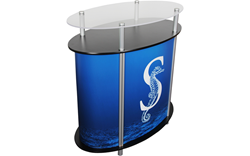 We're looking to transform our online store to a one-stop shop for all entry to mid-level exhibitors. We have big things in the works right now and a new inventory is just one among several ongoing projects. - Zenos Adduru, Manager
Tustin, CA (PRWEB) August 13, 2015
Displays & Exhibits, an online modular display retailer specializing in pop up displays and modular slatwalls, announced that they will be introducing a new line of portable counters in time for the upcoming Fall season. The Mesa series marks the third new product line Displays & Exhibits has added to its store in this year alone.
The Mesa series offers an alternative to the counter-case hybrids that are currently available on the Displays & Exhibits online store. Mesa brings a wide variety of different types of counters, reception desks, and media kiosks suited for any occasion and graphic printing is available as an option for near every model. Each item has the added convenience of easily disassembling to fit into a shipping case that can be purchased for an additional cost.
In addition to the Mesa counters and desks, Displays & Exhibits added a new line of pop-up displays and portable slatwalls earlier this year. The Spartan displays brought a new take on an old classic by taking the concept behind their most popular displays and reworking them with minimalist construction to reduce the risk of breakable parts. The ShowOff slatwall collection also grew to include various new configurations that would emphasize the modularity and portability of slatwalls.
When asked to comment on their ever-growing inventory, eCommerce Manager Zenos Adduru had this to say: "We're looking to transform our online store to a one-stop shop for all entry to mid-level exhibitors. We have big things in the works right now and a new inventory is just one among several ongoing projects." He went on to explain that each product added this year had been carefully selected based on a series of factors. Ranking chief among these was how portable and/or modular each item was. "Above all else, our focus is on portable and modular pieces, so any new product has to fall in line with that message."
About Displays & Exhibits
Displays & Exhibits is a division of Absolute Exhibits, Inc. - a leader in the trade show industry with multiple full service exhibit houses located around the globe. The division started in the wake of Absolute Exhibits' success as a means to educate and serve first-time exhibitors in ins-and-outs of the trade show industry. The company is located in Orange County, California, where they host a showroom that is open to the public with an appointment.
About Absolute Exhibits
A leading exhibition firm, Absolute Exhibits provides clients with turnkey solutions for designing and fabricating exhibits while managing the entire trade show experience as a one-source trade show and convention exhibit resource. Established in 2000, with locations in Southern California, Las Vegas, Orlando, and Bucharest, Romania, Absolute Exhibits rents and sells custom and system exhibits at over 300 shows in the USA and in countries around the world.