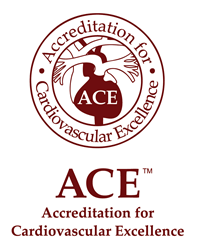 I think every cath lab should consider accreditation. We pursued ACE accreditation and reaccreditation because we believe it ultimately benefits our patients. -- Lynn Smith, RN, MSN, Director of Heart and Vascular Services at BSSF
Washington, DC (PRWEB) August 13, 2015
The current issue of CathLab Digest features the third and final installment in a trilogy of interviews focusing on the benefits of Accreditation for Cardiovascular Excellence (ACE) quality review and accreditation processes at Bon Secours St. Francis Health System (BSSF) in Greenville, South Carolina. In the interview, Lynn Smith, RN, MSN, Director of Heart and Vascular Services at BSSF, discusses how ACE reaccreditation has improved the performance and morale of the cath lab team, and how the staff has become "highly engaged" in continuous quality improvement.
The first hospital to be nationally recognized with ACE accreditation (in 2011), BSSF became the first hospital to receive reaccreditation for its CathPCI program from ACE. That distinction, bestowed in February 2014, prompted the three-part interview series in CathLab Digest. Part 1, entitled, Perspectives on ACE Reaccreditation: The Healthcare Executive's View, was published in January 2015 by The Alliance of Cardiovascular Professionals and reprinted with permission on the ACE website; that article featured an interview with Johnna Reed, RN, BSN, Vice President of Business Development, Heart and Vascular Services at BSSF. Part 2, The Interventional Cardiologist's View, featured an interview with A. Thomas Siachos, MD, who discussed the multiple benefits of ACE accreditation in the July 2015 issue.
"We wanted to be sure that our quality system was well implemented and had improved beyond our first accreditation," says Ms. Smith, in explaining why BSSF pursued ACE reaccreditation. "We knew we were at the top of our game, as compared to national standards. The ACE reviewers did a deeper dive this time; they knew our areas of opportunity for improvement and worked with us to step up our game to a new level."
In her CathLab Digest interview, Ms. Smith remarks upon the BSSF cath lab's renewed focus on thorough documentation, monthly case reviews, and adherence to national standards as a result of the ACE reaccreditation review. "The positive reinforcement and continued focus on improvement, quality, and patient and staff satisfaction has improved the overall morale for the cath lab team and we attribute a lot of that to ACE," she comments.
"I think every cath lab should consider accreditation," concludes Ms. Smith. "So much of the feedback is positive – it is important to understand which aspects of your process already meet the standards of care. The ACE review process allowed us to monitor our success, but also identify areas to improve the delivery of care. We pursued ACE accreditation and reaccreditation because we believe it ultimately benefits our patients."
About Accreditation for Cardiovascular Excellence (ACE)
ACE is an independent organization sponsored by the Society for Cardiovascular Angiography and Interventions (SCAI). ACE offers independent evaluation and monitoring of facilities that provide cardiovascular care. By reviewing facility and operator performance and comparing clinical decision-making to nationally accepted best practices; ACE quality review and accreditation services play a critical role in continuous quality improvement programs. Learn more at http://www.cvexcel.org.