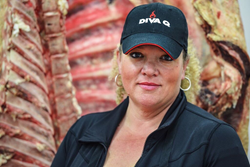 I've won multiple competitions using Traegers and I intend to do it again in Lynchburg
Salt Lake City, UT (PRWEB) August 13, 2015
Danielle Bennett, Traeger Pro Team member and pitmaster for Team Diva Q, has confirmed that she will compete in the 27th annual Jack Daniel's World Championship Invitational Barbecue using Traeger wood-pellet grills. As one of just 90 global competitors in the Invitational, Bennett returns to her fourth bout at "The Jack™". She has previously won the Jack Daniel's World Championship Pork Category as well as the Jack Daniels I Know Jack About Grilling competition.
"After collecting several generations of Traeger grills into my arsenal over a decade I trust Traeger Grills to be my wood fired grills of choice," noted Bennett. "Wood is an essential ingredient in the world of competition barbecue and it gives my food a delicious, unmistakable smoky flavor. I've won multiple competitions using Traegers and I intend to do it again in Lynchburg."
The Jack Daniel's World Championship is one of the most prestigious BBQ competitions in the world. Award-winning teams from around the world will compete for the coveted title of Grand Champion in seven categories: Chicken, Pork Ribs, Pork Shoulder/Butts, Beef Brisket, Dessert, Cook's Choice, and Jack Daniel's Sauce.
As one of the most influential people in barbecue, Bennett lays claim to over 300 barbecue awards and multiples grand championships. She demonstrates a passion for all things barbecue that knows no boundaries. Bennett travels across North America competing and judging at barbecue competitions, teaching, writing about and evangelizing barbecue on television as well as eating barbecue anywhere it's served. She is currently the host of the Travel Channel's hit show "BBQ Crawl."
About Traeger Grills
Salt Lake City-based Traeger Grills created the genre of wood pellet grilling nearly 30 years ago, bringing a new realm of delicious flavor and simplicity to outdoor cooking. Traeger grills offer six-in-one versatility, utilizing wood-fired convection power, which allows owners to grill, smoke, bake, roast, braise, and barbeque. Traeger Grills have inspired food enthusiasts, and wowed the grilling community with their ease of use and innovative functions. Visit http://www.traegergrills.com for more information or to purchase Traeger grills and accessories.
###