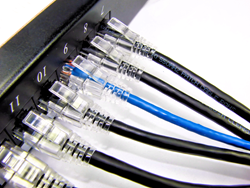 "ClearFit Slim will enable end users to dramatically improve the airflow over their critical IT equipment, prolonging the life of that equipment and saving hundreds of thousands of dollars in replacement costs – all from one little cable."
Irvine, CA (PRWEB) August 25, 2015
The new ClearFit Slim patch cord offers high-density installation by using 50% less space in pathways, offering improved energy efficiency, airflow, and clean installation. "We were able to save money by using less cable managers in the racks." – Facilities Manager (Los Angeles, CA)
The smaller 28AWG cable improves flexibility and has a tighter bend radius. The ClearFit Slim patch cord is available in standard lengths up to 100ft, standard industry colors, and is made with Clearfit®, a unique clear, easy-release, snagless retainer clip design. "I made ClearFit Slim patch cables a standard for most of our patch cords." – Data Center Site Manager (Orlando, FL)
The ClearFit Slim patch cord will be on display at the 2015 BICSI Fall Conference & Exhibition and the Synnex Varnex Trade Show.
"ClearFit Slim will enable end users to dramatically improve the airflow over their critical IT equipment, prolonging the life of that equipment and saving hundreds of thousands of dollars in replacement costs – all from one little cable." – Amanda Garcia, National Director of Channel Sales (Irvine, CA)
All ClearFit Slim patch cords are maintained by a limited lifetime warranty. Unirise is also a certified Sony Greenpartner and a member of the IKEA IWAY Program.
About Unirise USA
Unirise is a leading global manufacturer of structured cabling products and has operations in Irvine, CA, Tokyo, Japan and Shenzhen, China. They offer a full line of network infrastructure solution products.
For additional information please visit http://www.uniriseusa.com or email info@uniriseusa.com or contact by phone at 949-759–0909.
Unirise USA FB: https://www.facebook.com/waterworksway
Unirise USA Twitter: https://twitter.com/UniriseUSA
Unirise USA Linkedin: https://www.linkedin.com/pub/unirise-usa/72/424/a96
UNIRISE USA, LLC IS NOT AFFILIATED, ENDORSED BY, OR RELATED TO COMMSCOPE, INC. OR ANY DIVISION OR SUBSIDIARY OF COMMSCOPE, INC.
All Clearfit Slim™ 28AWG patch cords will meet Category 6 parameters at a maximum length of 20 meters. The attenuation is increased due to the smaller 28AWG conductors. 28 AWG conductors do not meet the 22 to 26 AWG conductor size of patch cable referenced in ANSI/TIA-568-C.2, resulting in an increased attenuation de-rating value of 1.9.