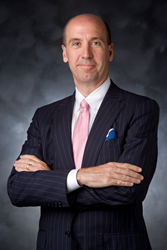 Given the advances in data analytics, the "Internet of Things," block chain technologies, robotics and collaborative consumption we need to expect big changes, including the possibility of new competitors in the insurance industry.
San Diego, CA (PRWEB) August 13, 2015
F. Scott Fitzgerald once said, "The test of a first-rate mind is the ability to hold two diametrically opposed ideas in your head at the same time." Futurist Jack Uldrich believes that what a futurist's job is--looking critically at past trends and assessing how future trends will affect organizations' growth.
Today, Jack Uldrich will be addressing the ICMIF 23rd Annual Conference in Mexico City, Mexico. He will deliver his keynote, "Why Embracing Change is the Key to Insuring the Future for You, Your Clients and the Insurance Industry."
Among the topics Uldrich will discuss at ICMIF Conference are how individuals can become more aware of transformational change in the insurance industry; why embracing humility and ambiguity will provide leaders increased confidence and clarity in shaping their future; and what tangible actions--including taking a "think week," finding a "reverse mentor" and conducting a "pre-mortem"--will be crucial to creating a successful future.
Additionally Uldrich will address the top trends affecting the insurance industry and ask thought provoking queries like, "Will Google Insure the Future?"
Uldrich says, "Google could possibly be one of the newest competitors and have the most influence on the insurance industry. He says Google's ability to utilize sophisticated algorithms and powerful supercomputers and/or quantum computers, they can crunch that data to come to a much clearer understanding of risk, which of course, is the basis of all insurance."
A well versed speaker in insurance trends Uldrich has also delivered keynotes for the 2015 Professional Insurance Marketing Association (PIMA) Conference, the 100th anniversary celebration for CICA (Captive Life Insurance,) Fireman's Fund Insurance, the CAS (Actuarial Society), and Chartered Property Casualty Underwriter Society (CPCU,) among others.
Parties interested in learning more about Jack Uldrich, his books, his daily blog, speaking availability or interviews are encouraged to visit his website.