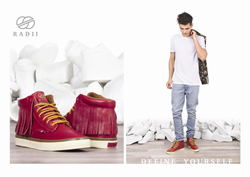 Radii Footwear will be debuting their Spring 2016 line at booth #877 at the Liberty Fashion & Lifestyle Fairs.
Orange County, Los Angeles (PRWEB) August 17, 2015
Radii Footwear is pleased to announce their participation in the Liberty Fashion & Lifestyle Fairs tradeshow, scheduled for August 17-19, 2015 in Las Vegas, Nevada.
Radii Footwear will be unveiling their Spring 2016 line at the tradeshow in advance of the line's in-store launch, scheduled for January 2016. The line takes the classic style of Radii's Basic and dresses it up with fresh and urban details including tassels, bold prints, and bright colors. Tassels are on point with current trends in urban footwear and promise to offer a cutting edge in spring fashions.
Known for having their finger on the pulse of the local art scene, Radii Footwear strives to create fashion-forward footwear that stays true to the local artists with whom they work with. The Fall 2015 Define Yourself campaign teamed with Thurz, a local hip-hop artist and designer, to create a campaign video centering around individuality and style. In the video, Thurz defines his art by saying, "Last the test of time. It's timeless."
Liberty Fashion & Lifestyle Fairs is a three-day expo held at the Sands Expo & Convention Center focusing on trends in the clothing industry. Other features include exhibitors showcasing upcoming jewelry, apparel lines, and fashion industry services. Visit Radii Footwear at booth #877 during the tradeshow for an up-close look at the Spring 2016 line.
About Radii Footwear
Headquartered in Southern California, Radii (ray-dee-eye) Footwear brings an unbridled passion for art and couture to the world of sneakers and high-end footwear.
Launched in 2008, Radii, defined as a range of influence, set forth to show there is no limit to fashion, creative styling, and opportunity. Radii Footwear's goal is to exceed the expectations of the current consumer climate by offering quality products, creative concepts, comfort and value. Radii Footwear's creative team thrives off the principles of functionality and fashion forward ingenuity. From futuristic designs and materials, to classic styling and detailing, each shoe exudes confidence for the ambitious forward-thinkers of the world. Learn more at http://www.radiifootwear.com/.