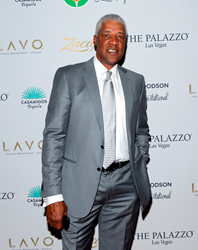 "GRAB A BALL & PLAY is excited to partner with the Julius Erving Golf Classic and the Salvation Army for this opportunity to host the Erving Youth Basketball Clinic," said Jazmin Erving
Philadelphia, PA (PRWEB) August 13, 2015
Hall of Fame Basketball forward Julius 'Dr. J' Erving, will host a luxury golf experience at Aronimink Golf Club in Newtown Square, PA, welcoming celebrities, golfers and fellow athletes for a one-of-a-kind weekend of legends, lifestyle and sports in support of a good cause. The three day event kicks-off on September 12, at 10 a.m., with the Erving Youth Basketball Clinic at The Salvation Army Ray and Joan Kroc Center in partnership with the Salvation Army of Greater Philadelphia, an organization dedicated to providing humanitarian aid to those in need. The Salvation Army has a special place in Erving's heart, as he was first given the opportunity to play on their team in the early 1960's, providing him the opportunity to compete and achieve at a young age.
"We are honored to have Mr. Julius Erving back in Philadelphia volunteering to spend time with the young people in our surrounding communities," said Major Philip Ferreira, Director of Operations, The Salvation Army of Greater Philadelphia. "Julius is an icon in his sport and continues to be an inspiration to Philadelphia. We would like to personally thank him, along with all the sponsors and participants that are joining in to make this a long-awaited reality."
Erving will join daughter Jazmin Erving, Founder and Executive Director of GRAB A BALL & PLAY Foundation an organization that makes year-round donations of new athletic balls to underserved youth participating in community programs, along with fellow NBA legends to provide an interactive and educational basketball clinic for young athletes in the surrounding Philadelphia community.
"GRAB A BALL & PLAY is excited to partner with the Julius Erving Golf Classic and the Salvation Army for this opportunity to host the Erving Youth Basketball Clinic, where coaching and heartfelt inspiration will be provided from my father and some of the game's most talented players and coaches. It is important for us to come back to our roots and to the city where it all began to provide Hope Through Basketball, that will benefit the youth and future of Philadelphia for years to come," Jazmin Erving said.
GRAB a BALL & PLAY Foundation will give signature Erving basketballs to youth in attendance as a symbol of hope. Erving will share his story of how basketball gave him hope and helped him through life, hoping to inspire the children at the clinic to work hard on and off the court.
On September 13, Aronimink Golf Club will host the Elite Partner Practice Rounds followed by the Erving "Black Tie" Ball presented by The Rittenhouse, Philadelphia's most historical and luxurious hotel. The Rittenhouse will welcome all sponsors, participants and guests to a Red Carpet Pairings Party. At the Black Tie event, guests will mix and mingle while sipping on signature Erving cocktails presented by CASAMIGOS Tequila. Event Co-Hosts ESPN SportsCenter Anchor, Jay Harris and Professional Golfer and Fashion Designer, Seema Sadekar will introduce celebrity guests and Erving will welcome everyone. Immediately following, Erving will host a private cigar experience at Ashton Cigar Bar, complimented by an exquisite Zacapa Rum experience with Mr. Erving himself.
On the final day, September 14, guests will head to Aronimink Golf Club to tee-it-up at the Erving Golf Classic tournament. The course will be set-up as a Julius Erving museum, where each hole will journey signature moments in time throughout Ervings' iconic career in basketball. Guests will also participate in a putting clinic presented by Seema Sadekar, The Golf Fashionista. During the golf tournament, the ladies will enjoy a Champagne and Caviar in the famed Aronimink Clubhouse with Dorys Erving, wife of Julius Erving.
ABOUT THE JULIUS ERVING GOLF CLASSIC
The event, run by Play Golf Designs, Inc., benefits the Salvation Army, a non-profit organization dedicated to bringing comfort, food, shelter and care to the needy around the world. VIP Packages for the Julius Erving Golf Classic can be tailored to include golf, hospitality, and invitations to the private parties. For information on Erving tickets, packages and experiences call Play Golf Designs Inc. 310.926.4075 or email info@playgolfdesigns.com. For media inquiries: Rachel Rees: Rachel@pgdglobal.com.
ABOUT ARONIMINK GOLF CLUB:
Aronimink Golf Club's Donald Ross-designed course has a rich history in golf, and is consistently rated one of the finest and most challenging in the US. The course has played host to the PGA Championship, the Senior PGA Championship , the AT&T National, hosted by Tiger Woods, and the U.S. Amateur and will also host the 2018 BMW Championship, an official stop on the PGA TOUR. http://www.aronimink.org/
ABOUT THE RITTENHOUSE
The Rittenhouse is an independent luxury hotel that has received the prestigious AAA Five Diamond award for 24 consecutive years. Complete with a brand new 3,000 square foot spa and club, this distinguished landmark hotel is a member of Leading Hotels of the World and considered Philadelphia's most desired address. Opened in 1989, The Rittenhouse is ideally situated on Philadelphia's famed Rittenhouse Square, within walking distance to the heart of the business district and premier shopping corridor. Additionally, the hotel affords easy access to the Philadelphia Convention Center and all of the city's numerous arts, cultural, dining and entertainment venues. For more information, visit rittenhousehotel.com.
ABOUT PLAY GOLF DESIGNS, INC
Play Golf Designs, Inc. (PGD) is a boutique-chic golf marketing & event company, directing and participating in luxury events for some of the world's most legendary athletes, entertainers and organizations including Clippers Assistant Coach Mike Woodson, Julius Erving, Jeffrey Osborne, The Broadcaster Jerome Williams, Reggie Jackson and Ahmad Rashad. PGD blends pop culture and entertainment, creating the most unique, innovative golf events and experiences for each client. The Las-Vegas based boutique golf company specializes in connecting golf to the modern world of trends and fashion. Operating events and experiences all around the country, PGD has successfully built strong relationships with some of the game's biggest clients, partners and vendors.
Tweet us. IG us. Visit us.
@ErvingClassic. http://www.juliuservinggolfclassic.com